Wakeboarding is just another amazing water sport but unlike many water sports, it is not quite easy to learn. Wakeboards are made for the different type of riders which includes beginner, intermediate as well as professional and expert riders. Everyone wants to learn more of wakeboarding and go ahead, however, there are still a few people, who want to stay at the intermediate stage and do not wish to be experts.
You can say Cricketers are experts and boys playing street cricket are intermediate. The same case goes for Wakeboarding and CWB has made a wakeboard by the name of the CWB 2017 Connelly Surge Blank Wakeboard for those users who are interested in staying at the middle level only.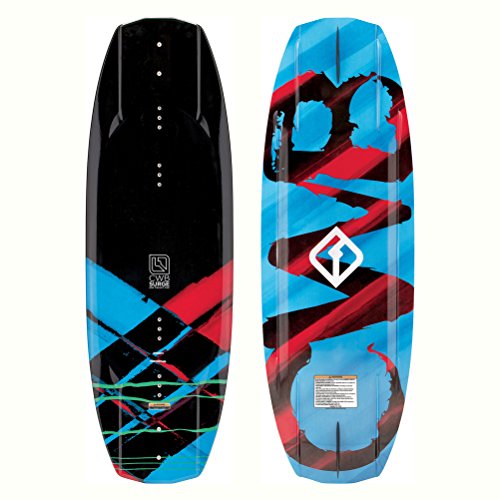 Strong Core
Coming with a system 80 core, you can expect the 2017 Connelly Surge Blank Wakeboard to provide ultimate performance and be a durable one. It gives an amazing pop off the wake which makes it easier for the users to have some stunts as well. Other than that, it is designed in such a way that anyone can learn from it as well and know all the key basics to wakeboarding.
There are 4 x 4 molded fins which provide easy tracking and keep the board straight without any extra effort required. This is surely going to be a great one when it comes to wakeboarding.
3-Stage Rocker
Usually, this rocker is used in crafting most of the wakeboards. A 3-stage rocker is an ideal one for providing the beginners with an extra lift that not only motivate the learners but also help them gain confidence of riding a wakeboard without any fear. Learn all the proper riding techniques with the use of this wakeboard and enjoy.
The forgiving center spine makes the CWB 2017 Connelly Surge Blank Wakeboard the right board to ride. The center fin is removable as well. If you are looking for one wakeboard that could help any learner in picking up his game, then this is going to be the right choice.
Specs and Features
Item Weight 5 pounds
Package Height 4 x 20 x 60 inches
Size 125cm
Skill Level Intermediate
Subtle 3-stage rocker
Fin configuration: 4 x 4 molded fins
System 80 core
Pros
Delivers a smooth performance
Large Center Spine which is removable
Plenty of pop of the launch
Smooth and predictable landings
4 fins provide efficient tracking
Durable, resistant and versatile
Cons
Not made for advanced level riders
Verdict
The verdict for the CWB 2017 Connelly Surge Blank Wakeboard goes out in the positive because apparently there are no major drawbacks in this. Yes! You might have to spend out a little bit on other safety equipment but there isn't any flaw when it comes to the performance of this wakeboard.
The customers who tried it were delighted and happy to have it. Make sure that an advanced user does not buy this since it is only designed for users who are at the learning stage or at the intermediate level. Get this wakeboard right away and have fun!