Ronix 2017 District Park Matte Metallic Black Blue Wakeboard
$419.99
Pros
A versatile rocker line
Concave bottom shape
ariable rails system
Best core technology
Offers smooth and controlled riding experience
Cons
Not for professionals
Expensive when comes with accessory bag
Less variety of colors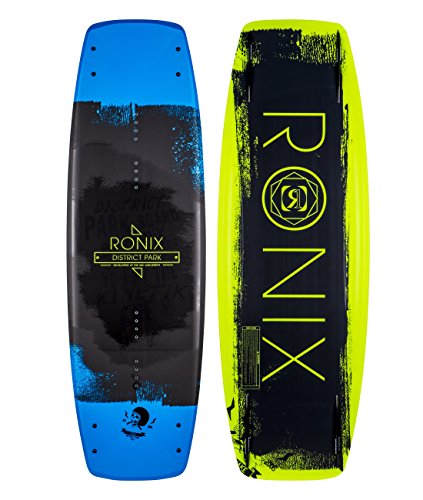 Ronix knew what a perfect surfer was looking for and they came up with this model bringing out the very best in wakeboard technology.  Ronix gives a warm welcome to all the new water riders with its 2017 District Park Wakeboard.
Offering perfect control and full stability for over the water ride and top air experience, the Ronix black blue metallic wakeboard 2017 is perfect for newbies and intermediate level riders. The most stable wakeboard from Ronix, this 2017 upgrade offers a smooth riding experience for beginners
Variable rail system for the first time
We all know that Krypto cable rails, and the standard tip to tip rails system were way too old now so Ronix came up with this idea of introducing a variable rail system. Now there is a greater chance for making longer jumps and having smooth turns on sharp edges along with an easy free ride.
The variable rail system is yet another milestone in wakeboarding history. The rail system can be changed as desired. This also allows for the perfect grip when needed for making sharp turns or edge around the corner.
Featured 3 staged rocker
The 3 stage rocker offers the perfect boot off wake and maximum top air time. Also, The G&R Technology produces less friction and lesser resistance to glide on. The wakeboard offers the smoothest experience on calm waters, lakes or shallow seas. The concave shape allows rider to assume the most comfortable body.
The Ronix 2017 District Park Wakeboard is durable and has a shell composed of resilient material, making it less prone to corrosion. It offers more composure and stance maintenance at top water and at air top.
Specs and Features
Size: 129 cm, 134 cm, 138 cm, 143 cm
Color: GP Yellow, Glossy Black
Number of fins: 8 Fins
Fin system: 4 Fiberglass 1.0″ Ramp Fins
Base type: Standard Base
Type of rocker: 3 stage hybrid
Warranty: 1 year
Riding style: Wake
Ability: Beginner-Intermediate
Check Out this Review of the Best Ronix Wakeboards this Year
Pros
A versatile rocker line
Concave bottom shape
Friction-less hull
Purely for beginners
Variable rails system
Light weight
Best core
Offers smooth and controlled riding experience
Less resistance on water
Available in 4 different sizes
Cons
Not for professionals
Less variety of colors
Expensive when comes with accessory bag
Verdict
Do-all and Do-anything attitude of this Ronix 2017 District Wakeboard is a perfect choice for first timers and intermediate riders alike. It has been rated and reviewed highly, and users have recommended the board for newbie and other intermediate level riders. With the all new Ronix variable rails and Versatile Rocker line, the District hits across a blissful cross of pop.
The smoothly carved design is just as much as capable of dishing out a full-fledged competition-grade run as the Ronix District Park Wakeboard (2017) is providing a very stable platform for learning to carve. Do grab this upgraded 2017 model and next capture some of the craziest and mad times behind the boat with your team.
Price Disclaimer