Slingshot 2017 Solo Wakeboard
$399.99
Pros
High-performance and big air wakeboard
Light in weight and portable
Affordable
Smooth rides and landings
Available in different sizes
Cons
Scratches might occur easily
Not made for beginners
You will either hate or love the graphics
The expert riders always know what they or the beginners should have in their wakeboard to improve their skills and have a fun ride. The Slingshot 2017 Solo Wakeboard is designed by an expert rider known as Dylan Miller.
He has made sure that the riders are provided with all the features that are necessary for not only the beginners, but also for the advance riders. Before you make any further decisions whether to buy this wakeboard or not, you should read the following review and take a quick look at the features it has.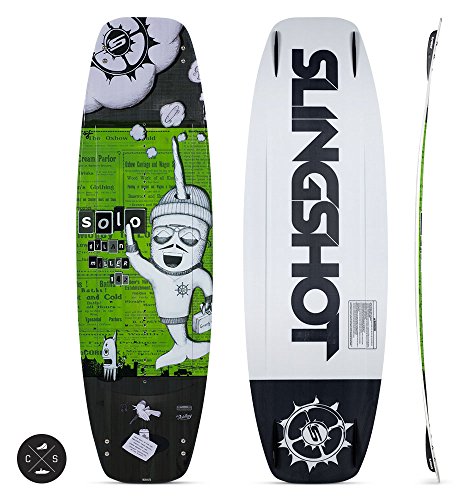 Multiple sizes available
The best thing which can be in a wakeboard can be the fact that it is available in multiple sizes so that maximum number of users can have the pleasure of using it. with, this 2017 Solo Wakeboard is also available in 3 different sizes. the three sizes are 138cm, 142cm, and 146cm. however, mainly, it is designed for expert level riders since the board is big and it can be difficult to control for the young beginners.
This is one reason why this board is made highly responsive and the design is made for high-level riders. the weight is quite low for an advanced rider as it is only 15 pounds which means you can show off your skills and stunts in an easy way.
Use it Anywhere
Whether you are near a cable park or you want to use this wakeboard at a boat ride style, it can be used in both ways since the design is made like that. other than that, it has a narrow profile which makes carving even better for the riders.
It has the new Flex Tip technology which makes it even better for the rider and provides an excellent riding. There are 4 fins and a 3-stage rocker which gives an explosive pop off the wake and better traction and support for the rider.
Specs and Features
Shape: Narrow profile
Flex tip technology
Rocker type: Continuous
NACA tech channels
Fusion sidewalls
V-spine
All wood core lamination
Ballistic park base
Four  6″ x 0.75″ Wake Fins
Carbon bedrock inserts
Designed for high-level riders
Pros
Light in weight and portable
Keeps the balance
Flexible, yet stays stiff
Smooth rides and landings
More air time and less water resistance
Improves your skills
Comes in different sizes
Cost effective
Cons
Not made for beginners
Scratches might occur easily
Verdict 
As we have mentioned several amazing features of this board, it obviously gets a positive verdict from us and we believe that all the high-level expert riders should get this Slingshot 2017 Solo Wakeboard right away. With a responsive design, all you need is a good pair of bindings and a great boat or cable park to pull you off and you will be good.
Various users have given positive comments on this which is another reason why it should get a positive verdict. have it purchased from amazon.com right away.