Slingshot 2017 Whip Wakeboard
$399.99
Pros
Strong and durable
Bodes well for those looking for tricks
Simple to use even for beginners
Lightweight
Grip gives the rider good balance
Cons
Recommended for male riders only
User weight cannot be exceeded
Unappealing appearance for some
When you play a sport, using the right equipment according to your needs and comfort is very important. Even for the wakeboarding sport, you need the perfect wakeboard so you can glide through the water with ease and enjoy your ride. Finding the right one gets a bit tricky but not if you have ab expert advice.
Written below is a review about the Slingshot 2017 Whip Wakeboard in which you will find all the wonderful features that are required to win a challenge and also have fun at the same time. You should check it out but before that, do read the article to find out more about it.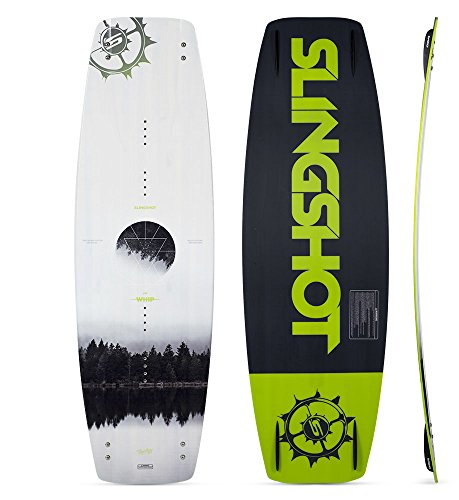 Extra pop
The continuous rocker is something which is an essential part for use of a wakeboard. This will help you in having an extra pop off the wake. For intermediate users, this is a good thing since it will help them out in showing their skills and having confidence in riding.
The best thing is the 2017 Whip Wakeboard has a medium flex which makes it neither too soft nor too hard which means a normal support and grip is going to be there for the user. It has been designed for the male riders so if you are a lady, try something else.
Multiple sizes
The best part about the 2017 Slingshot Whip is the fact that it is available in 3 different sizes of 135, 139, and 143 inches which means intermediate and expert level riders can enjoy the wonderful benefits of this wakeboard. It has not been designed for beginners so make sure if you are a beginner, you get something else.
This wakeboard also features four wake fins of 6″ x 0.75″ size. You will also love the color and the design of this board. It is mainly designed for cable park riding experience so do enjoy the most with it.
Specs and Features
Rocker type: Continuous
Medium flex
Fusion sidewalls
Ballistic park base
Four 6″ x 0.75″ Wake Fins
Made of fibreglass and wood
Size: 135, 139, 143 inches
Weight capacity varies with size
Designed for men
Pros
Waterproof
Light in weight and keeps the balance
Easy to use
Strong and durable
Can perform tricks with it
You can choose between the different sizes
Looks attractive because of the colors
Cons
Made for men only
User weight cannot be exceeded
Verdict
In our opinion, you should get the Slingshot 2017 Whip Wakeboard as riders love the continuous rocker type and the four fins it has. These features improve the quality and the performance of the wakeboard. You can also perform many amazing tricks with this board and make your wakeboarding more joyful.
It comes at a very reasonable price, being one of the best 2017 wakeboards in the market. You will love this board and you will enjoy wakeboarding with it. Make sure you get your very own before it runs out of stock on the amazon.com.  we hope you have a great experience with this board.