Hyperlite State 2.0 Wakeboard
$182.50
Pros
Great pricing options
Offers great pop off the wake
Great learning board
Three size options to choose from
Makes beginners better
Cons
Not recommended for intermediates and experienced riders
Slower than most
Heavier than most
Durability concerns
Landings could be softer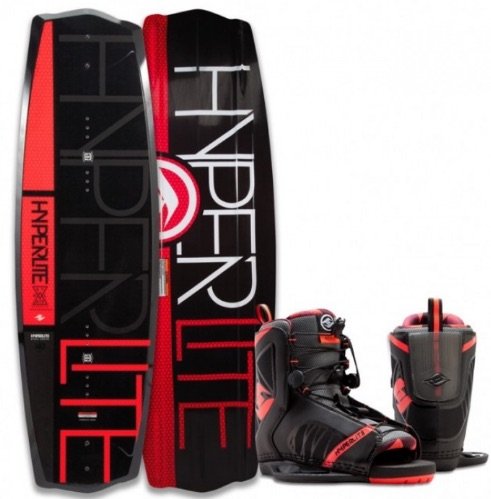 When looking at the numerous Hyperlite wakeboards, you are sure to find one that meets your needs perfectly. This is one of the largest manufacturer of wakeboards, and over the years they have become one of the most respected. Bringing in pros to offer the best of all worlds while tending to the needs of riders of all skill levels.
Their newest models offer some of the best graphics we've seen in wakeboards. The Hyperlite State 2.0 Wakeboard is yet another offering with amazing visuals as this one boasts a red and black color pattern which has become adored by fans of all ages. The styling that goes into each Hyperlite wakeboard is almost impressive as their ability to make riders better. Hyperlite's State 2.0 is another high quality that is has become a great transitional board.
Sizes for the Entire Family and Various Skill Levels
No matter what size you're looking for you're likely to find the perfect one for you. The Hyperlite State 2.0 comes in three different sizes including 125, 130 and 135cm long which makes this board a formidable option for both youths and adults. With its entry level deck, youth riders and beginners will love the stability as this board gives you a heightened level of balance.
Hyperlite adopted cutting edge water sport technology as their shorter boards are better suited for beginners. When applying toe side pressure, there is less rail to initiate which makes it much easier to learn jumps and other stunts. Transitioning riders will likely go for 130 or 135cm board which allows you to get more air.
Features Improve Learning
Some wakeboards are very difficult to for beginners and less experienced riders to own the wake, but not the State 2.0. This is a great board for beginners as features like the molded in fin which creates less drag. Subtle Toe-Side Footbed Risers were added into this 2016 model which allows the rider to get more leverage on the board which improves lift and control.
The dual compliment of the a-symmetrical design and footbed risers were intended to keep the rider in a natural body position, therefore, more control. With more of an upright position, the intention is the rider will gain more speed going into the wake without losing pop coming off of it. This could definitely have been better as these were great intentions by Hyperlite, but misses the mark with riders with a bit more experience.
Specifications and Features
125, 130, and 135cm length
Unique a-symmetrical design
Subtle Toe-Side Footbed Risers
Molded-in fin
Thin profile
Check Out Our Review of the Best Hyperlite Wakeboards this Year
Pros
Great pricing options
Offers great pop off the wake
Great learning board
Three size options to choose from
More control to the rider
Great drag
Makes beginners better
Comfortable bindings
Cons
Not recommended for intermediates and experienced riders
Slower than most
Heavier than most
Durability concerns
Landings could be softer
Verdict
While the Hyperlite State 2.0 Wakeboard may be a good board, but it's far from great. On the outside, this 2016 model features some impressive graphics, but it's lack of performance when comparing it with other Hyperlite wakeboards is somewhat disappointing. Great for beginners, but after transitioning into a higher skill level it lacks the responsiveness of other boards in its class.