Ronix 2017 Quarter 'Til Midnight Wakeboard
$319.99
Pros
Exclusive design for women
Smooth and controlled ride
Faster ride with boot of wake
Availability in 2 different sizes
Highest strength to weight ratio
Cons
Only for women riders
Not recommended for beginner
Limited weight bearing capacity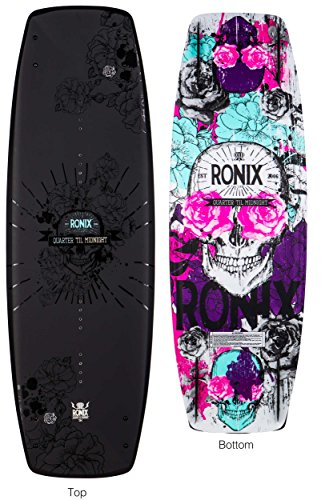 Another newest and most innovative design from Ronix, the Ronix 2017 Quarter Till midnight wakeboard is an exclusive women wakeboard. It can be ridden smoothly without the typical stereotypes, and with complete freedom. The board is designed to adapt with the riders riding style and provides ultimate wakeboarding experience.
The 2017 Quarter Till Midnight offers the smooth, fast yet a controlled glide on the water and a longer air stay. It can move with a swift motion without unnecessary expenditure of energy. Some of its unique specs and features make it an undoubtedly better product than many others counterparts.
Continuous rocker
Maintaining the standards of its traditional continuous rocker, the rider is enables to experience a better transfer of energy and power. The wakeboard's rocker also provide for comparatively snappier edge to edge transition. This is what results in an exceeding top water plus glide speed.
Moreover, the quarter till midnight wakeboard has a perfect combination of boat and cable. This offers more than ever control, especially desired by a woman rider. No compromise is made on the joy and leisure of the wakeboarding experience.
Consistent takeoff
The takeoff and the glide on the water are always consistent, which offers longer stay in the air and gives a feeling of freedom and ultimate wakeboarding experience. Additional pressure points on rails have made the 2017 Quarter 'Till Midnight wakeboard a popular choice with first time shredders.
The glide and takeoff motion quickly adapts to the rider's riding style and body position and enables the rider to maintain the balance on high and low waves. The design offers firm grip to hold on in the air time or stronger waves and ensures safety.
Specifications and features
Sizes: 129 cm, 134 cm
Color: Black/ Multi
NEW for 2017
Hybrid Design
Mod Pour
Universal Rocker
Speed Walls
Secret women Flex
Low Friction Base
M6 Inserts
Amber Wing Pro Model
G&R Technology
Built in J-Bars
Low friction base
Four Fiberglass 1.0" Ramp Fins & .8" Fiberglass Free Agent Fins
Continuous Rocker
WARRANTY: 1 Year
Check Out this Review of the Best Ronix Wakeboards this Year
Pros
Exclusive design for women
Smooth and controlled ride
Suitable weight bearing capacity
Availability in 2 different sizes
Faster ride with boot of wake
Better glide speed
Highest strength to weight ratio
Colorful, interactive design
Cons
Only for women riders
Suitable for intermediate level
Limited weight bearing capacity
Verdict
The Ronix 2017 Quarter Till Midnight Wakeboard is reviewed and rated highly for its optimum performance. Its lightweight but durable and resilient base allows more air time and a leisurely water ride experience. Known to be a women's brand, Ronix has nailed it again with this exclusive women wakeboard.
Women riders have rated this as an excellent board, and it keeps them ready to hit either the rails or the wake. Not only women, but this wakeboard from Ronix is also popular among the newbies and seasonal riders. No doubt, the 2017 quarter till midnight is every bit the higher end board.