If you are afraid of toeside jumps, then don't worry there is a way to which you can become a master of toeside jumps. The Ronix 2017 Vault Wakeboard is the way which will help you out in becoming a master at it.
This 2017 wakeboard is designed by keeping in mind the rough conditions, and for this purpose, the area of the deck is increased. It is an innovative board which reduces the angle of attack and make it easy for you to board towards the wake. You will have softer and smoother feel by having a ride on this board.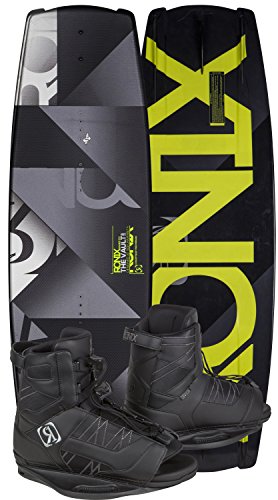 Perfect Rocker Type
To make your ride smooth, the early rocker is used in Vault Wakeboard. You can ride on the board with more speed and can show a number of tricks by using this board. You can take off effortlessly, in more predictive and faster manner. Make your ride different from ordinary wakeboard riders by using it.
You can ride the 2017 Vault Wakeboard with Divide Bindings in any condition of water sweetly and safely even if it's a bad water day or water is calm, you can easily control the midair and the board if you own Vault Wakeboard. It consists of M6 Hardware which means that at a shallow depth you have more hold over your board. You can have more contact and can feel the water.
Ideal Rails
Krypto Cables are used in 2017 Vault Wakeboard for making it strong enough. It is fused with the core of the board and surrounding the board. With the help of this cable, strength of side walls is enhanced. You can have more grip over the board and water by using it. In the core, Mod Pour which makes the board lightweight.
Monocoque glass is wrapped around the board for making it strong and soft. You can have stiff and safe ride due to the durability and stability of the board. 4 Molded Asymmetric Fins which makes it easy for you to take sharp turns safely.
Specs and Features
Brand: Ronix
Model: Vault Wakeboard
Ability Level: Intermediate to Advanced
Riding Style: Wake
Rocker Type: Continuous
Core Material: Foam
Base Type: Standard Base
Wakeboard Mount Pattern: M6
Fins:2
Warranty:1 Year
Weight: 160-175 lbs.
Pros
Wider base
Smooth ride
Easy to land in the water
More speed
Ride in any water condition
Cons
Verdict
The Ronix 2017 Vault Wakeboard is an innovative board which provides you with a safe and smooth ride. You can land in and get out of the water easily by using this board. No need to worry about the condition of water, as it does not matter if you own this board. The wide base of the board allows you to have a soft ride in the shallow water.
You can have better hold over the board and air even if the water is rough. The weight capacity of the board is excellent along with its warranty period. No matter you will have to pay more but features worth the price.