Hyperlite 2017 Eden 2.0 Women's Wakeboard
$269.99
It's not always that men are interested in water sports. Women also take major interest in various water sports which is why many companies design wakeboards which are specific to a female rider's requirements. You can find the reviews regarding the best wakeboards for women at our website and get the right one.
One such wakeboard that has been designed by one of the most top-notch companies is the Hyperlite 2017 Eden 2.0 Women's Wakeboard. Find out more about it in the review below and decide whether it is going to be right for your lady or not.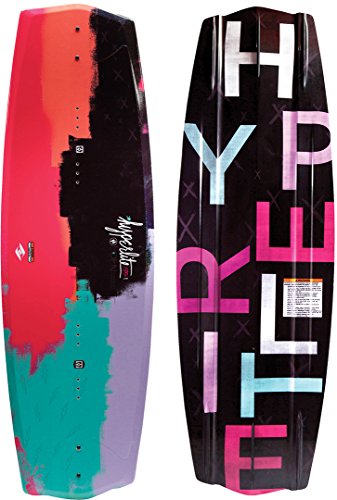 Asymmetrical-Design
A good design is extremely necessary for a woman rider. This is because they find it slightly difficult to understand and learn the art of properly riding. In this wakeboard, Hyperlite created a shorter but more effective edge on a rider's toe-side which made hard to learn wake jumps that much easier. This brings a better confidence in the rider as well.
The smoother toe side transition is then held by the 2017 Eden 2.0 Wakeboard's thinner profile molded in fin, creating less drag and a better release off the top of the wake. There are 4 fins which are removable that will ultimately help in making the rider have a better control over her board.
Master the Basics
The Hyperlite 2017 Eden 2.0 has been mainly designed to provide the users with an amazing experience and help them master the basics of wakeboarding as well. The wakeboard is available in three different sizes of 125cm, 130cm, and 135cm as well. Get the right size as per your requirements. Other than that, there is layered glass Monocoque construction too which makes it durable and a long lasting one.
The weight limit ranged from 130lbs to 145lbs from least length to maximum length respectively. You will have a great experience with this wakeboard and learning will not be a problem at all.
Specs and Features
Sizes available: 3 sizes available 125, 130, and 135cm
Weight limit: 130lbs to 145lbs.
4 removable fins present
Monocoque construction
3-stage rocker
Made for women riders
Pros
Layered glass makes it durable
Creates low drag
Provides an amazing pop off the wake
Better control
Makes learning wakeboarding easier
Cons
Not made for expert riders
Verdict
The Hyperlite 2017 Eden 2.0 Women's Wakeboard goes out in the favor of those women who are in the beginner stage or who are in the intermediate stage. It is also a suitable one for young kids who are in the very basic and initial stages of learning wakeboarding.
Multiple sizes are available and you should get the 125cm one if you are getting this for a young kid, a 130 cm one for a beginner elder lady, and the 135 cm one if you are an intermediate level rider. This wakeboard is going to be one of the best choice for a women which is why we recommend it as well. Get it from amazon.com and have your lady enjoy in the waters.