Liquid Force 2017 Angel Women's Wakeboard
$269.99
There are different types of wakeboards available in the market but which one of them is the best one for you? This is quite a difficult question because each wakeboard is distinctive from the other one in terms of design, performance and features. However, the answer to this question is with us. We have reviews of various types of wakeboards whether it is for kids, men, women, or beginners, experts.
We have wakeboards for everyone and we identify all the possible benefits to the user. Read about the Liquid Force 2017 Angel Women's Wakeboard and find out whether it is going to be your choice or not.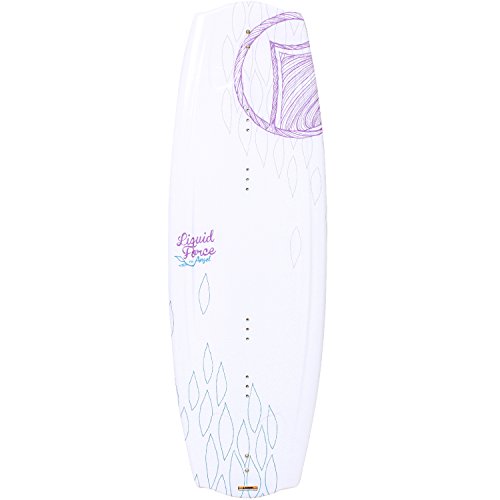 A Unique Design
This 2017 Angel Wakeboard comes with a unique design since it comes with a modern bat tail which is not a part of many wakeboards today. For women, this feature is going to be quite helpful in a smooth ride and even smoother landings. Other than that, there is a variable edge rail which is going to be helpful in providing extra support and grip to the user.
If you're looking for a smooth riding board with responsiveness and plenty of pop then you just found the right board because this angel wakeboard is going to be an angel for the rider.
Amazing Hull
The Double-Inside-Single-Concave Hull through the center will soften those landings without sacrificing speed. The rocker is also nicely shaped which makes it easier for the user to have an extra pop off the wake.
The 2017 Angel Women's Wakeboard is easier for a beginner as well as an intermediate level rider to ride this board since it is not a difficult one when it comes to riding and control. 4 removable fins are present which improve your control over the board. We hope you have an amazing experience with your wakeboard and you enjoy it from tip to tail.
Specs and features
Dimensions   4 x 18 x 60 inches
Shipping Weight   17 pounds
Size   138cm
Skill Level   Intermediate
Skill Range: Beginner – Advanced Intermediate
Model Year: 2017
Board Width: 16.8in (@134cm)
Rocker: 2.4in (@134cm)
Edge: Variable
Rocker Type: Continuous
Weight Range: 90-150lbs (@134cm)
Fin Configuration: Removable Center Fin
Pros
It has a center fin
Smooth rides and landings
Ultra fluid pop
Many tricks can be performed
Affordable
Cons
Not too light in weight
Scratches can occur easily
Verdict
If you love catching air and want a super fun board to help crush it all then you'll want to check out the Liquid Force 2017 Angel Women's Wakeboard. Features like the continuous rocker, center fin, and the it's construction are the reasons why this board loved by almost all the riders.
It is also very attractive. This wakeboard is designed for the beginners as well as the advanced riders. You will love wakeboarding with it as you can also perform many great tricks. You should buy this board before the price goes up.