Liquid Force 2017 Arris Women's Wakeboard
$469.99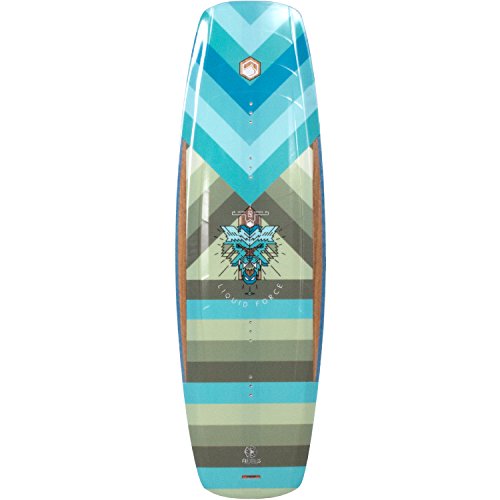 The Arris 2017 is a wakeboard manufactured by The Liquid Force. Wakeboards are used for a water sport called wakeboarding. In this sport, the rider has to ride the board over the surface of the water, keeping their balance. Arris is specially designed for women as it has all those features that make the wakeboard easy to use and comfortable for female riders.
This multi-colored board looks very beautiful and gives a soft feeling for women. The board comes in 2 different sizes (133 and 138 cm) which make it easier for the rider to choose the board according to the height and weight. This wakeboard is based on Liquid Force's finless TAO shape but as this board is made for women, it has slightly softer flex. It has PU wood core, grind base, wide center concave and inside channels and a 3 staged rocker.
The PU Wood Core
The PU Wood core is one of the best things about a wakeboard. Liquid Force's PU Wood core gives the best of both worlds. It helps in giving the appropriate flex and spring of a solid wood core whereas; the strength also lies in this wooden PU core.
Powerful Base
Liquid Force is known for providing best bases. The Liquid Force Exclusive Grind base is present in the Liquid Force 2017 Arris Women's Wakeboard. It helps in maintaining the performance features of each finely tuned hull shape. The wakeboard becomes resistant to damages and can last longer.
Specs and features
Length of the board- 133 and 138 cm
Width of the board- 42.2 and 42.5 cm
Color of the board- muti-color
Base- Grind Base
PU Wood Core
Liquid Rails
3 staged rocker
Wide center concave
Finless
For women, be it beginners or pros
Check Out This Review for the Best Liquid Force Wakeboards of the Year
Pros
Light weighed
Strong and durable
Flex technology provides softer landings
3-staged rocker gives pop off the wake
Fast
User friendly
Comfortable to use
The inside channels are shaped so you can ride finless
Variable sizes give rider an option to choose the best size for themselves
Tricks can be performed easily
Cons
Overpriced coming in just under $500
Verdict
There are many wakeboards designed for women but The Arris 2017 is designed by keeping in mind the desires of the women. This is what makes this wakeboard one of the best boards of Liquid Force designed for women. It has many great features like the flex technology, grind base, and the 3-stage rocker. Different size of the wakeboard is also a great option.
The Arris 2017 is a 'must have it' product for all the female wakeboard riders which makes it easy to use and makes wakeboarding more fun. Only 3 Arris are left in stock, so hurry up and get your board.