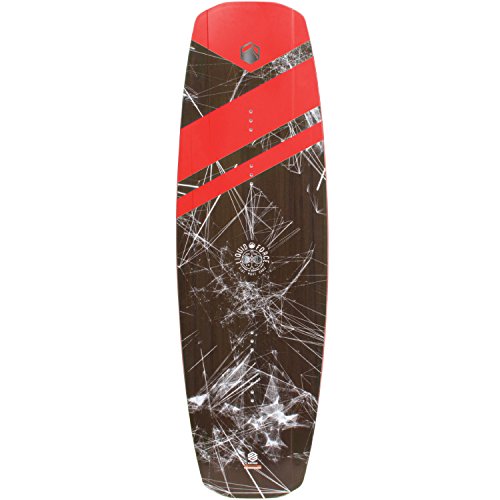 It's the year 2017 for wakeboards and there are more than 200 latest wakeboards already available in the market. One good thing about all these new wakeboards is that they have been modified and improved in such a way that none of them have any major problem with them and most of them have slight issues only. You can also say that most of them don't even have an issue at all.
The only thing you might be reluctant about is that whether to buy this wakeboard first or not? Is it worthy enough or not? No one has tried it yet? So will it work for me or not? Don't worry because some of them are just too amazing to be given a second thought. Let's talk about the Liquid Force 2017 FLX Wakeboard.
True Park Performance
William Klang and Chandler Powell decided to design a wakeboard which is perfect for the cable park riding. Being the latest wakeboard in the market, Liquid Force 2017 FLX 139cm Wakeboard is a stiff wakeboard and gives an amazing riding experience on the water. It has been constructed with a fully wooden core.
This wooden core is loose when it comes to the water but springy on the rails. This makes the riding flexible and stiff at the same time. The Liquid Force 2017 FLX Wakeboard becomes a smooth and responsive wakeboard and can be a top choice for all the intermediate to expert level men riders.
Strongest Possible Base
Usually, people are very confused about buying the perfect wakeboard for Cable Park riding because it is slightly difficult and has higher chances that your wakeboard gets scratched or damaged. For additional protection and long lastingness, the Liquid Force 2017 FLX 139cm Wakeboard has the strongest possible base.
This is known as the Grind Base. It doesn't affect any feature or performance of the wakeboard, in fact, it helps in giving a solid protection to the wakeboard. With the help of liquid rails, the Liquid Force 2017 FLX 139cm Wakeboard is going to be a wakeboard which would last for years to come and you won't regret your purchase ever.
Specs and Features
Size: 139 cm
Weight: 12 pounds
Skill Level Required: Semi Advanced – Advanced
Rocker Type: 3-stage rocker
Rail Type: Liquid Rails
Fin Setup: Four fins
Cable Park Design
Check Out This Review for the Best Liquid Force Wakeboards of the Year
Pros
Stiff and Flex at the same time
Smooth on the rails
Unique graphics
Landings are soft
Made for professionals
Cons
Not suitable for beginners
Verdict
This Liquid Force 2017 FLX 139cm Wakeboard has been one of the latest wakeboards in the market. As we see, the 2017 FLX model is an excellent wakeboard and provides all the necessary features. We would suggest our readers to surely buy this wakeboard only in the case if you are slightly on the advanced or intermediate level of wakeboarding. It is going to be an amazing choice for you!