Liquid Force 2017 Melissa Hybrid Wakeboard
$499.99
Pros
light weighed
comfortable and user-friendly
damage resisting base reduces damage
designed for intermediates and pros
subtle 3 stage rocker delivers quite a boost
Cons
not suitable for people over 170 pounds' maximum, depending on the size of the board
not for beginners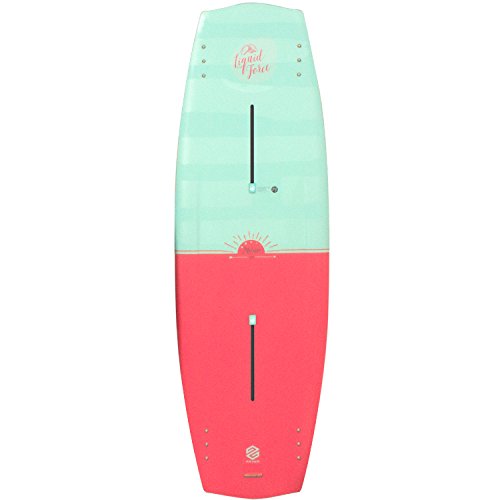 The Melissa 2017 wakeboard, designed by Melissa Marquardt, is manufactured by Liquid Force. It is specially designed for women, keeping in mind the desires of women who love wakeboarding. One of its specialties is that it is used for all the wakeboarding styles. The board has many great features such as the 3 different sizes (127,131 and 135 cm) and according to these sizes, there are different weight ranges.
This is a very good option because the rider can easily choose the best size for herself, making wakeboarding easier and more fun. The wakeboard consists of a 3 staged aggressive rocker and has a hybrid technology. It has center base channels and liquid rail sidewalls and also comes with optional 0.8" fins. The board is thin profiled and has a grind and sintered base.
Smooth Ride- Softer Landing
With a continuous 3-stage rocker, the board has an amazing pop. The ride is not only smoother but it also provides the rider with the ease of softer landings. It is an all-rounder wakeboard and can be used for all types of riding which includes boat riding, Cable Park riding, and even the rail riding.
Conquer everything board
The Liquid Force 2017 Melissa Hybrid Wakeboard is there so that you can conquer literally everything. Go over and have an amazing experience of wakeboarding with the Liquid Force 2017 Melissa Hybrid Wakeboard. Enjoy because of the latest FlexTrack system.
Specifications and features
Length of the board- 6″/ 131.0 cm
Width of the board- 16.4″ 41.6 cm
Weight range- Up to 56Kgs
Color: Pink and Sky Blue
Hybrid Core Construction Technology
CNC Milled Wood/Polyurethane Core
Aggressive Three Stage Rocker
Wakeboard Style- All-Terrain
Wakeboard Rocker- Continuous
Level- advanced
Center base channels
Sintered base
LF Exclusive Liquid Rail Sidewall
Thin Profile
Optional 0.8" fins
Riding ability- intermediate/; advanced
For Women
Check Out This Review for the Best Liquid Force Wakeboards of the Year
Pros
light weighed
strong
comfortable and user-friendly
easy to learn
subtle 3 stage rocker delivers quite a boost
provides perfect balance
durable
damage resisting base reduces damage
comes in different sizes and weight
designed for intermediates and pros
Cons
not suitable for people over 170 pounds' maximum, depending on the size of the board
not for beginners
Verdict
Melissa by Melissa Marquardt is one amazing wakeboard manufactured by Liquid Force. It has many amazing features like the hybrid core construction, exclusive liquid rail sidewall, and the continuous 3 stage rocker. The wakeboard is easy to use and very comfortable. It's designed for intermediates as well as professionals and is only designed for women.
The three-different-size option is great as the customers can choose the right size for themselves. Melissa 2017 is one of the best wakeboards in market now. Only 2 Melissa Wakeboards are left in stock, so hurry up before they get out of stock.