Liquid Force 2017 Raph Wakeboard
$529.99
Pros
Flexible and stiff at the same time
Strong base construction
Comes at a reasonable price
Great for tricks and stunts
Available in multiple sizes
Cons
Scratches are easily caused
Not recommended for women or beginners
Wakeboarding is a great sport and every day the trend of this water sport is rising. More and more people are getting attracted towards wakeboarding because it is a fun activity along with sports as well. People usually prefer wakeboards which can be used for a long period of time as they are expensive.
Well, in that case, find out whether the Liquid Force 2017 Raph Wakeboard is going to be the right one or not. Below mentioned is its review which contains more details about it.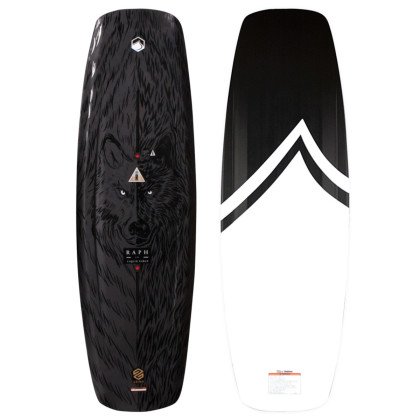 Strong Grind Base
To prevent a wakeboard from any type of damage caused while you're riding on the water surface or on the rails, your wakeboard needs to have a really strong base. This wakeboard by Liquid Force has a grind base which is extremely strong and makes it durable. This way, your board will last for a longer time period.
The liquid rails of this 2017 Raph Wakeboard make sure that no damage is caused to it or your ride doesn't get interrupted when an obstacle hits it. It is specially designed for men which is quite a disappointment for female riders. The color and the design of this wakeboard is quite attractive and makes you want to ride it often.
Different Sizes Available
The 2017 Liquid Force Raph Wakeboard is available in different sizes for your comfort as you can choose it according to your weight and height. The different sizes are 135, 139, 143 cm It is designed for the riders of intermediate and advanced level. You'll have to look for another wakeboard if you're a beginner.
The PU/wood core and the flex technology provide the user with maximum flexibility and stiffness at the same time. This way, you can perform many amazing tricks and make your rides fun. This wakeboard also features a 3-stage rocker. This rocker faces more water resistance.
Specs and Features
PU/Wood Core
Liquid base
Grind rails
Flex technology
3-stage rocker
Size: 135 cm, 139 cm, and 143 cm
Designed for men
Intermediate to advanced level
Pros
Flexible and stiff at the same time
Strong base construction
Maximum durability
Comes in different sizes
Easy to perform tricks with
Comes at a reasonable cost
Cons
Scratches are easily caused
Not designed for women and beginners
Verdict
The verdict for the Liquid Force 2017 Raph Wakeboard goes out in the positive because it is a single wakeboard that gives multiple uses to the rider. It is both stiff and flexible at same time and has a strong and durable construction which means that this wakeboard will last for a long period of time. You will have a great time with this wakeboard since it is easy to perform tricks with.
Make sure you are an intermediate or expert level rider because it is not made for beginners. Get this amazing 2017 wakeboard from amazon.com right now and enjoy. We hope you have a great experience with this wakeboard and it runs for several years without causing any major or minor problems to the rider.