Liquid Force 2017 Tao Wakeboard
$529.99
Liquid Force is a good brand when it comes to manufacturing of wakeboards. The company has been in the market for several years and has made a few very good wakeboards which have been used by sportsmen and have been awarded. Various signature wakeboards have been awarded and nominated as well.
With that being said, it is quite evident that liquid force is a good name when it comes to wakeboards. Let's find out how is the Liquid Force 2017 Tao Wakeboard. Read its review below and decide for yourself whether you should purchase it for your cable park or for boat riding style.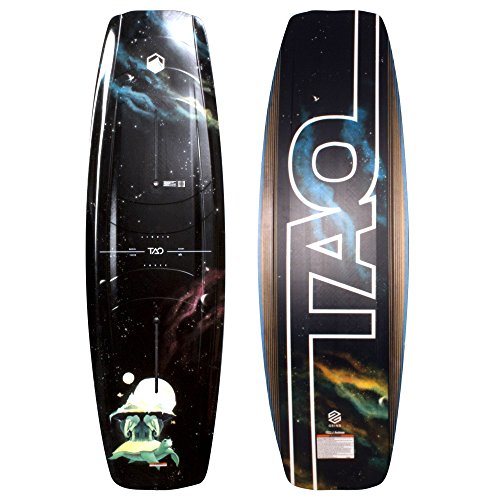 Best Core
The best thing about the 2017 Tao wakeboard is the PU Wood core which is the best core. It provides the solid strength of wood core and resilience of a PU core. With this two-in-one core system, this wakeboard is a great one providing a multiple resistance and effective riding experience to the user.
Other than that, it can be used for both cable park riding style and boat riding style. It has been designed by Daniel Grant who is one of the best wake riders in the world. We are very sure that you will enjoy having this wakeboard with you.
Durability at its Best
This 2017 Liquid Force Tao Wakeboard is a durable one as well since it comes with liquid sidewalls which bring strength to this wakeboard. Other than that, there is the strongest base that has ever been made which is the Grind base. This base makes the performance features even better since it can resist the rough usage.
Other than that, extra pop off the wake would be there since it comes with an amazing rocker too. The unique stepped deck profile provides lively flex and increased strength through the center of the board for aggressive riding. Keep in mind that this wakeboard is mainly designed for cable park riding but can be used for boat riding as well.
Specs and Features
Core: PU – Wood Core
Grind base
Size: 145cm
Color: Mixed black
Liquid sidewalls
Rocker: Continuous rocker 3-stage
4 removable fins
Pros
Best core provides durability
Provides the best cable park riding
Can resist damage since it is made of strongest base
Effective riding experience to the user
Extra pop off the wake
Cons
Not made for beginner level riders
Verdict
For aggressive riding, the Liquid Force 2017 Tao Wakeboard is going to be the right choice. For many users who tried it, they found it to be a great one but only for professional riders since it is already the design and made by a famous wake rider. With numerous benefits as well as an amazing design, the overall performance of this wakeboard is enhanced and the users will enjoy.
We give this wakeboard a positive verdict and it is recommended that you get it before it's gone so that you don't have to pay a high price and you receive the parcel on time as well.