Liquid Force M.E. Women's Wakeboard
$244.84
Pros
Center Fin available
Crisper edge on the tip and tail
Flatter center curve for speed & rail control
Designed to assist women in best possible way
Super stable when riding flat
Cons
Not made for highly expert women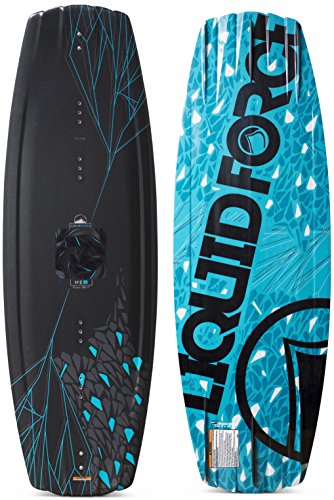 Many people think that wakeboard isn't an idea; sport for women as the accessories, bindings, and wakeboards for women are not designed by a lot of firms. Liquid Force is one firm which is constantly working for the promotion of wakeboarding among women.
There are several wakeboards which have been designed by Liquid Force just for women. Liquid Force M.E. Women's Wakeboard is a wakeboard designed in two different sizes so that women can choose and ride a wakeboard which suits them the most.
Easy Control Possible
It is structured in such a way that it has easily predictable handling and control. The impact base of the wakeboard is slick and very strong making the riding of the wakeboard very safe. It is at the same time very light to decrease the overall weight of both the rider and the board itself on the water surface. It is short and wide for increasing strength and durability.
It has a single to double Venturi Concave hull shape that helps to increase its popping speed.It is specifically designed for boat riding style.
PU Core makes it lightweight
One can see through the PU core at the same time. It is very easy and comfortable for the riders of all ages and is being used widely for different wakeboarding competitions. It is specially designed for both free riders and competitive riders. It comes up with the into the wakeboard. This core and the internal liquid rail are wrapped perfectly in a lightweight glass layup for ultimate responsive flex.
It allows the wakeboard to move fast with a powerful initial push. Its wide base with full rail through the center of the board makes it much stronger and firmer. It also makes the wakeboard more durable. The fact that it is available in two different sizes of 130cm and 134cm makes the choice for women much easier.
Specs and Features
Size: 130cm and 134cm
Flex: 3/10
Quad Channels
Style Type: Boat Style
Fin Setup: Molded Side Fins
Core Type: PU Core
Rail Type: Variable Edge Rail
Rocker Type: 3-Stage Rocker
Check Out This Review for the Best Liquid Force Wakeboards of the Year
Pros
Center Fin available
Crisper edge on the tip and tail
Flatter center curve for speed & rail control
Designed to assist women in best possible way
Super stable when riding flat
Cons
Not made for highly expert women
Verdict
It is one of the best sporting wakeboards designed especially for big sporting events and at the same time is being widely used by both beginners and professionals for making their wakeboarding experiences much more adventurous and joyful. People who already have experience of riding wakeboards feel very satisfied with this wakeboard as it makes their continuous wakeboarding experience memorable every time.
It is not only cheaper than other wakeboards but also is more efficient, hence it is worth a buy. It is still available on the Amazon site and is being ordered by a number of people worldwide.