O'Brien 2017 Gigi Women's Wakeboard
$169.99
Want an exclusively women's wakeboard, then the O'Brien 2017 Gigi Women's Wakeboard is an option worth considering. This women's wakeboard is functionally fit and has a better aesthetic design for appealing women. It is best to fit to accommodate for female boot. It makes handling comfortable along with the safe ride. The affordable price of the wakeboard allows you to enjoy your favorite sports.
Your board will remain stable in the water, and its wake off and on is predictable. The tip and tail are long enough so that you can enjoy the ride. Let's dive into the detail of the 2017 Gigi Wakeboard.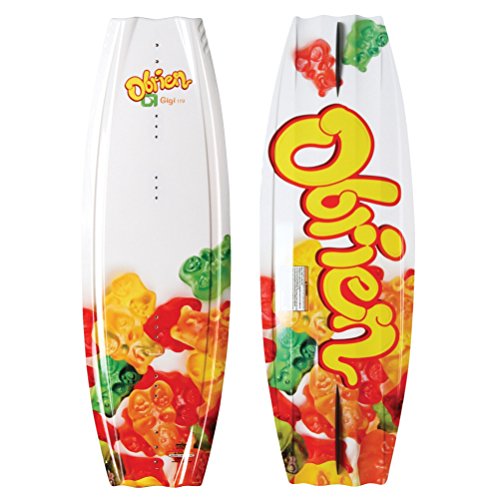 Aesthetic Design
It does not mean that it is female wakeboard then it needs to be pink. The O'Brien 2017 Gigi Women's Wakeboard is equipped with colorful drawings over the base. There are colorful drawings on the white base. A large O'Brien is drawn in the mid of the wakeboard for making it prominent. The shape of the wakeboard is curvy from tip to tail.
This curvy shape gives you smooth landing over the water. You can begin and smoothly your trip. You can handle the speed of your ride easily. Continuous rocker is used so that professionals an also enjoy ride on this wakeboard.
Functionally Fit
Extra buoyant foam core is used in this Gigi women's wakeboard so that you can get in and get out of the water easily. The combination of materials is used in making this wakeboard so that you can use it for years without getting worried about breakage. The easy handling of the board allows you to enjoy the ride for hours without hurting your body.
6-millimeter inserts are used in this wakeboard so that if you lose your hardware, you can borrow from your friend. The weight capacity of this wakeboard is ideal so that every woman can enjoy this water journey. It is a lightweight wakeboard so that you can carry it along with you on any beach trip.
Specs and Features
Brand: O'Brien 2017
Model: Gigi Women's
Length: 48.8 inches
Width: 15.75 inches
Rocker: 15 inches
Weight capacity: 60 to 140lbs
Flank: 1.35
Pros
Appealing colorful design
Long and wide base
Easy to use
Smooth landing
Easy wake off and on
Lightweight
Cons
Edge needs improvement
Unique, but unappealing design
Verdict
The O'Brien 2017 Gigi Women's Wakeboard is perfectly designed wakeboard that provides you with an incredible water ride. You can use this board even if you a professional, intermediate and even for beginners. Controlling this unit is easy as you can control the midair. The wake off of the wakeboard is predictable and provides you with a smooth landing.
The long tip and tail of the board provide you with a safe ride over the water. The price of the board is affordable so that you can enjoy the ride by paying little. You will have to keep the wakeboard safe when it is not in use so that you can keep it new. A storage bag can be purchased separately for keeping the board safe in the cabinet.