O'Brien CTP Wakeboard
$314.99
Pros
Best sliding properties
100% foam lightweight core
Working carbon inlays on tip & tail
Precision at its perfect shot
Durarail makes it durable and long lasting
Cons
Can't be used by beginners
Not designed for cable park riders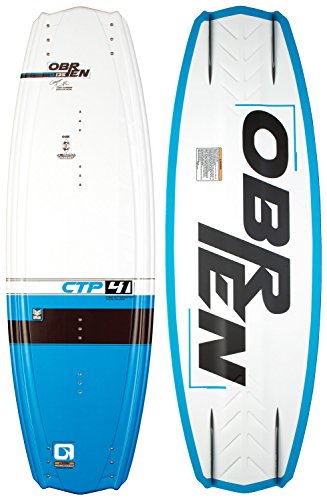 Cory Teunissen has been working with O'Brien for a long time and has designed several amazing wakeboards. Each year, the wakeboards he designs are improved and much better than before. O'Brien CTP 129cm Wakeboard is another wakeboard which is known as the signature wakeboard of Cory. This is because O'Brien has made the O'Brien CTP Wakeboard a great one with some amazing features. Read on to find out.
Stores energy and Kicks-In
The O'Brien CTP 129cm Wakeboard has been designed by Cory Teunissen. He requested O'Brien to reduce the weight of the wakeboard and make some other improvements so that he can call it as his signature wakeboard. Delta Base and 3-Stage rocker line keep the CTP fast already, however, the recent improvement is that it has the full length of carbon throughout the board.
O'Brien's CTP stores 100% of the energy it receives and then releases it in the form of an explosive vertical pop which gives the board a great height.
The Feathery Core
The O'Brien CTP 129cm Wakeboard has been the softest or you can say that it has a feathery core. It has the maximum float and minimum weight. This gives the rider a better control in the air as the weight is quite low. The profile has been maintained up which helps in giving a boosted and explosive pop off the wake. It is built for some rough style usage and can resist a lot of pro-level abuse. It is built for boat performance and not the cable park ride.
Specs and Features
Size: 129cm
Designed for: Men
Delta Base
Flank 0.7
Designed by: Cory Teunissen
Width: 41.7 cm
Rocker Type: 3 stage rocker
Rocker size: 5.59 cm
Fin Setup: 4 fins
Usage: Boat riding
Skill Level Required: Advanced
Weight limit: 29-66 kg
Check Out this Review of the Best O'Brien Wakeboards this Year
Pros
Best sliding properties
100% foam lightweight core
working carbon inlays on tip & tail
Precision at its perfect shot.
Specifically incorporated
Durarail makes it durable and long lasting
Effortless approach into the wake
Cons
Can't be used by beginners
Not designed for cable park riders
Verdict
The O'Brien CTP 129cm Wakeboard is the perfect choice for our advanced riders. For those who think that it is not fair that it is not designed for beginners, we have good news for them. The wakeboard is available in 3 different sizes of 129cm, 135cm, and 141cm.
For intermediates and beginners, the 135 and 141 cm size board can be used as well. The best thing about this wakeboard is that it has an extra boosted pop off the wake and the board goes to great heights. This is one of the most important reasons why we recommend this wakeboard.
Price Disclaimer