O'Brien Fremont Wakeboard
$199.01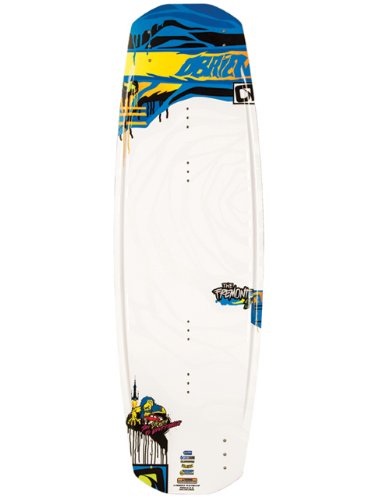 Wakeboarding is becoming a very popular sport. It is a water sport in which a wakeboard is used by the rider to ride over the surface of the water, keeping his balance. As it's becoming very famous in many countries, the demand for wakeboards is increasing as well. Different riders want different features in their wakeboards according to their desires.
They also want the board to be more wallet-friendly. Keeping all this in mind, O'Brien has introduced a new wakeboard in its series called, The Fremont. Fremont board was inspired by Sean O'Brien's pro model Paradigm flex board. The board is 138cm long and 43.6cm wide. The PTX base construction and the smooth base provide a great sliding and make the board durable.
The flex technology allows ultimate flexibility and the 2.7 progressive rocker makes the ride very fast. It also comes with 4 removable fins
Progressive rocker gives a boost!
It comes up with an expanded delta base that helps to remove water quickly from the tail of the board hence helping the board to keep moving forward smoothly without facing friction. It has a progressive rocker end bindings with molded fins that are continuous throughout the pop.
The Freemont has combination J-bars through the center of the board which creates pretty soft landings and helps in ultimate heel hold. Moreover, It is structured in such a way that it has easily predictable handling and control.
Strong and durable!
The Fremont base of the wakeboard is slick and very strong making the riding of the wakeboard very safe. It is at the same time very light to decrease the overall weight of both the rider and the board itself on the water surface. It is short and wide for increasing strength and durability. It has few other access bindings such as Strobel lasted liner and open toe design for more fit flexibility.
Check Out this Review of the Best O'Brien Wakeboards this Year
Specifications and Features
Length: 138cm
Width 43.6 cm
Color: white and blue
7 Progressive rocker
Hybrid wakeboard
Stance 22, 24, 26
Edge profile Straight
PTX Base construction
Smooth Base
Flex Technology
Fin Setup Blunt 0.8
Style of Ride: Boat, Cable, Rails
Skill level:Intermediate to Advanced
Rider weight Range140-220lbs / 63-99kg
Pros
light weighed but strong
clean and fast shape
comfortable and easy to use
easy to learn wakeboarding
durable
progressive rocker makes the ride very fast
flex technology provides ultimate flexibility
smooth base is great for sliding
boat and cable friendly
designed for everyone. be it men or women.
Cons
not suitable for people over 220lbs
boring graphics and color pattern
Verdict
The Fremont Wakeboard is one of the best wakeboards in the O'Brien series. It has many incredible features and is recommended for everyone. The wakeboard is suitable for intermediates and professionals, provided that they should weigh less than 220lbs to provide durability and constant smooth functioning.
It is suitable for all types of wakeboard events due to its fast speed and a firm balance which makes the rider very comfortable it. Many tricks can be performed by this board which makes it fun to use. The Fremont is loved by many riders because of its amazing features.