Ronix 2017 Press Play ATR S Edition (Green Marilyn) Wakeboard
$449.99
As people have started spending a lot of time on their mobile phones, laptops or other devices, either for work purpose, education or entertainment, they get fed up of it and want some peace of mind. They then go to gym where it's all noisy and do not get satisfied. People should try aqua sports for this purpose.
Wakeboarding is a water sport in which the rider must keep his balance over the surface of the water while standing a wakeboard. The Ronix 2017 Press Play ATR "S" Edition (Green Marilyn) Wakeboard is one of the best ones in the market right now. You should check it out. It is guaranteed that you will love it.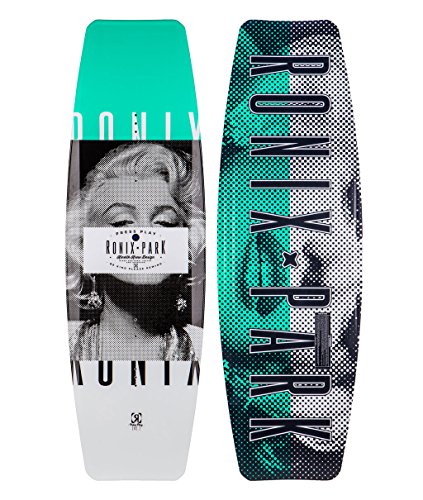 Variety of Sizes
This wakeboard is available in multiple sizes. Why so? It's because some people prefer the design and features of a specific wakeboard but they are unable to find the right size because of their skill level or other issues.
The 2017 Press Play ATR S Edition (Green Marilyn) Wakeboard is available in 3 different sizes of 136.3cm, 141.1cm, and 146.3cm. It has been designed for men so keep a note of that. It's specially designed for men and can be used by intermediates as well. You can also perform many tricks with this wakeboard. We hope you have a great experience with this one.
Strong construction
The 2017 Press Play ATR S Edition Wakeboard has a strong construction which is the ATR construction. This means that the wakeboard will be quite strong and durable. You can have it used for professional skills as well since it is going to resist the pro level abuse as well. Other than that, there is a laminated glass which makes it design even better and makes it even stronger.
The color is green Marilyn which is just fine as well and the design is attractive. It has a continuous rocker that gives an extra launch of the wake which will provide confidence to the rider and help him in showing skills and performing stunts in a better way.
Specs and Features
Rocker: Continuous
Sintered Enduro Base
G&R Technology
Concave Bottom
Finless
ATR Construction
Monocque Laminated Glass
Size: 136.3, 141.1, 146.3 inches
Color: Green Marilyn
Designed for men
Pros
Soft and smooth landings
More air time
Many tricks can be performed
Board stays stuff between your feet
Light in weight and stays stable
Can be used by men of all heights
Cost effective
Cons
Scratches can be caused
Designed for men only
Verdict
In closing, we can say that this Ronix 2017 Press Play ATR S Edition (Green Marilyn) Wakeboard is must to buy. It has a very high quality and many amazing features which ensure the safety, comfort and the best performance for the rider. This wakeboard is only designed for men and can be used not only by be professionals but also by beginners.
It also comes at an affordable price so I would suggest you buy it as soon as you can from the Amazon before it runs out of stock. You will love the performance it provides.