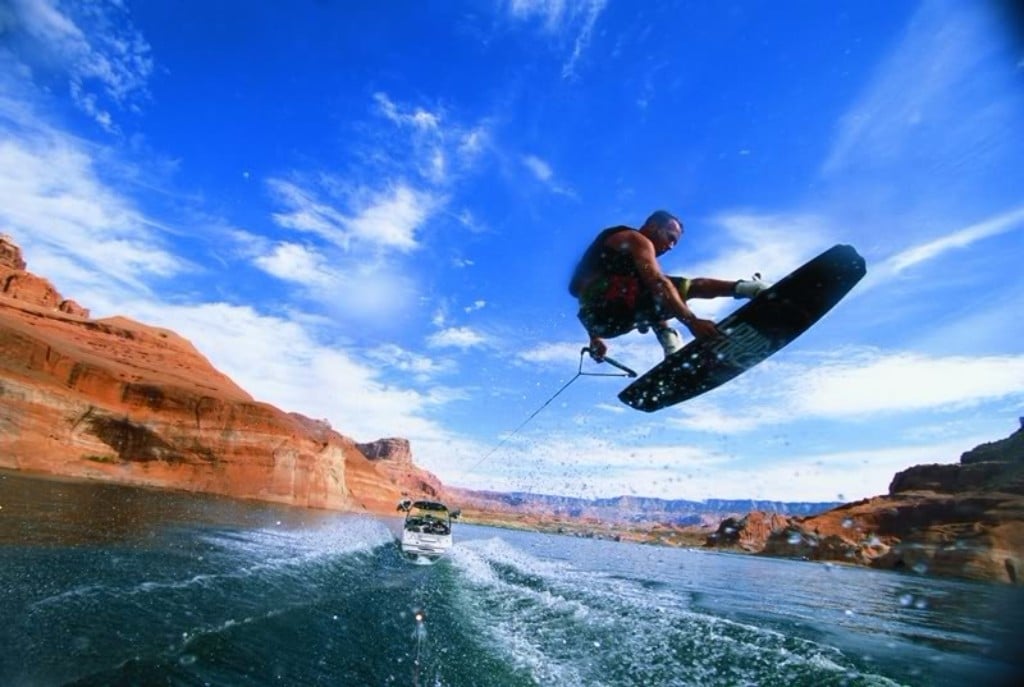 O'Brien wakeboards are always some of the most sought after as they easily one of the most recognized names in water sports. O'Brien has made a great name for themselves due to offering some of highest quality products for everyone in the family. Whether you're a male, female, or child and any experience level you may have, you will surely find a recommended wakeboard for you.
The top of the line O'Brien wakeboards offers cutting edge technology that pushes wakeboarding to the extreme as many riders suggest that it's the board that makes all the difference. Transitioning riders into being much better in no time at all, these boards offer much more than some of the best performance features on the water. Whether you're looking for a new upgrade or looking to get onto the wake for the very first time, the following review details all you need to know.
The following review takes an in-depth look at the Top 10 O'Brien wakeboards for 2017 detailing everything a consumer needs to know.
10.0/10
Pros
Light and Strong at the same time
Cheaper than other wakeboards
Minimum drag and optimal control
Comfortable and easy to use
Thinner and less friction producing
Cons
Not suitable for people above 150 pounds
And taking the top spot in our O'Brien review is none other than the Valhalla wakeboard. This board commands respect and has received it from riders of all skill levels. This high performance board is not only O'Brien's best of the year, but is easily one of the best wakeboards of all-time. This upgraded version features everything you need, and it doesn't matter what skill level you bring to the water as this board will make you so much better.
The O'Brien Valhalla wakeboard features high intensity water sport technology which includes a slick and strong impact base, quad molded-in fins, wide base with full rail, super strong progressive rocker, 6mm inserts, and much more. This board is the perfect complement for all riders as beginners will find it simple to learn, and intermediates and professionals will find Valhalla is more than capable for the roughest and hardest wakeboarding.
9.8/10
Pros
Lightweight
Greater Control
Durable
Unique design
Greater balance
Cons
Not suitable for individuals weighing more than 160 lbs
If you're able to get past the stunning visuals of the O'Brien Spark 133cm wakeboard, you will realize that performance is where it's at with this board. Taking the 2nd spot on our list scoring a 9.8 out of 10, this board has everything riders need who are looking for a much deeper ride. This board offers an unparalleled thrust which gives you the best pop coming off the wake while setting up the next one for some amazing combo tricks.
Recommended for advanced level riders, this deep impact wakeboard comes complete with a very comfortable set of bindings. The 3-stage rocker, four molded-in fins, and at 133cm long, the Spark is not recommended for newbies, but is highly recommended for experienced riders. Coming in at under $300, this is a small price to pay for one of the highest performing O'Brien wakeboards out there.
9.7/10
Pros
One for all wakeboard. Can be used in Cable park, boat or winch
Highly durable and resistant to pro-level damages
Added tip and kick
Sintered PTEX base
Exclusive pop
Cons
Not a suitable one for beginners. Only experts
The O'Brien Baker Men's wakeboard offers something that has yet to be seen in other boards with its Sintered PTEX base. Recommended for expert riders, this Baker upgrade is one of the most durable and aggressive wakeboards out there. Standard at 144cm length, riders looking for a high impact board that makes it possible to own the wake while giving rides exclusive pop.
This board was created with professional riders in mind which means it can withstand some of the hardest riding out there. Boasting a unique design quality with an unforgiving performance package which includes a progressive 3-stage rocker and Dura-Rail side walls which makes it perfect for Cable Park, boat, or winch wakeboarding.
9.6/10
Pros
Lightweight but strong
Durable
Highly Durable Abs Impact Base For Cable Parks.
Ultra-Lightweight Foam And Hardwood Create a Strong, Snappy Deck
Sandwich Construction Core Provides Flex For A Unique Ride
Cons
Not suitable for people over 130 pounds
For a ride on the wild side meet the Baker Blem Men's wakeboard. This O'Brien classic has proven its worth scoring a much deserved 9.6 out of 10 which has made it a contender for the best of the year. This wakeboard features an amazing platform for those looking for amazing stability, speed, comfort, durability, and is highly recommended for riders of all skill levels.
The O'Brien Baker Blem was created with male riders in mind, but women have found that it's very easy to learn and one of the easiest to control. This versatile wakeboard features an ultra-lightweight foam construction which gets you on top of the wake while providing some of the softest landings. With its ease of use, beginners love it and with its highly durable design, intermediates and professional riders love it even more.
9.6/10
Pros
Durable
Ridiculously cheap price
Light and Strong at the same time
Thinner and less friction producing
Very Useful for beginners and intermediates
Cons
Not very effective for people above 230lbs
The O'Brien System Blank wakeboard offers some of the best visuals ever seen in water sports. The look of this board is quite impressive, but that's far from all that makes gives this wakeboard the 5th spot on our O'Brien best wakeboards of the year. Offering superior performance which will be seen in speed, curves, pop, durability, and so much more, it's easy to see why it's become one of the best-sellers internationally.
The visuals make this board stand-out, until you get on it for the very first time. From there, the slick and strong base which was designed by Chris Johnson that takes full advantage of every mm of real estate. Complete with double barrel channels, 6mm inserts, strong continuous rocker, and everything you need to make you a much better wakeboarder. And we haven't gotten to the best part yet which is the price, coming in at just over $100 bucks.
9.6/10
Pros
Decreased weight
Easier To control
Superior Vertical Pop
Double concave through midsection
Can handle aggressive wakeboarding
Cons
Not suitable for people weighing more than 140 pounds
Over-priced
For those who don't mind shelling out nearly $400, the O'Brien Format Wakeboard is a great buy. Coming in as one of the more expensive boards in this review, those who have purchased it state that it's a small price to near perfection. If you're an aggressive wakeboarder looking for a new board that is highly durable, gives you extremely soft landings, and gives you much more speed going in and coming out of the wake, then this Format upgrade may be for you.
This board is a highly sought-after wakeboard as it comes complete with some very visuals. Boasting bright and vibrant colors that fully complement its Delta Base and comes in at only 12 pounds. Complete with a reinvented 3-stage rocker, 4 spine fins, double concave through midsection, and comes in three different sizes.
9.6/10
Pros
Low drag
Higher speed
Easy to control
Fin configuration makes it stable
Has a media mount insert slot
Cons
Bindings aren't included in this price, but there are options with bindings
Skyla is a women's wakeboard that is highly competitive, very affordable, and extremely versatile. The amazing fin configuration makes this one of the most stable riders which was tailor made for women riders which comes complete with a great deal of balance that is super easy to control. Scoring a 9.6 out of 10 due in part to Skyla's high performance package which includes amazing speed, durability, and sleek appearance.
Women riders have stated that this is one of the easiest wakeboards to control. Offering superior comfort and balance, riders of all skill levels can not only learn how to wakeboard, but can perfect some of toughest tricks on the water. Even despite the fact there's no bindings included, at well under $200 bucks, the O'Brien Skyla wakeboard is a steal considering what it does come with.
9.4/10
Pros
Strobed lasted liner
3 replaceable and reversible Velcro straps
Design allows for maximum customization
Impct base for cable parks
Universal size
Cons
No additional accessories
Design not suitable for beginners
The O'Brien Paradigm Men's wakeboard comes in at 144cm which is one of the longest boards on the market. This board was tailor made for male riders looking to take full advantage of the wake by offering a great deal of real estate that is well-balanced throughout. Offering amazing visuals and a unique red and black color pattern, this Paradigm upgrade is love at first sight.
One of the best aspects of this Paradigm wakeboard is its extreme versatility. This board is highly customizable which makes it very appealing for riders of all skill levels and those looking for a tailor-made ride based on wake size and desired intensity. Some of the best features include a very durable HDPE base, CMEVA outsole, progressive rocker, straight edge profile, EZ Glide lace system, and much more.
9.4/10
Pros
Best sliding properties
100% foam lightweight core
Working carbon inlays on tip & tail
Precision at its perfect shot
Durarail makes it durable and long lasting
Cons
Can't be used by beginners
Not designed for cable park riders
The O'Brien CTP wakeboard stands out from many of the other top boards on this list as it offers a modern blue and white color pattern. Simple, but amazing beautiful, CTP offers a performance package that is fitting for some of the most aggressive wakeboarders. Recommended for those with an advanced level skill set, this board is not meant for those who are tamed at heart.
The CTP wakeboard was designed by Cory Teunissen and it's easy to see the meticulous attention to detail this designer brings to the table. Coming in at just over $300 bucks which is a small price to pay for one of the highest wakeboards of the year. Some of the stand-out features include a 4-molded in fins, Delta Base technology, and a 3-stage rocker.
9.2/10
Pros
Lightweight due to foam core
Reduced drag due to delta base technology
Durable impact base
Can resist pro-level abuse
Can go on great speeds
Cons
Available in one size only
Price high comparative to base model
The O'Brien Format Impact wakeboard was made specifically for male riders, but it's plenty versatile for all types of riders in mind. This board is extremely durable and offers an amazing platform that is better suited for intermediates and professionals alike. For those looking for one hell of a ride, this board will do that and so much more.
The Format Impact Men's wakeboard is among the best of the best and has proven this as it's become one of the top sellers on Amazon. Coming in with a very modest price around $225, O'Brien proves once again that performance and price is an option. Some of the top performance features include O'Brien's Delta Base technology, progressive 3-stage rocker, multi-media insert, and 4 molded-in fins.