Sometimes we all just need a break from our regular routine and head over the beach to enjoy. Well, one of the most common beach activities can be riding a wakeboard as well. However, for that, you need the right wakeboard too. There are different types of wakeboards as well.
Getting the right one is no longer an issue because you will get the right one after reading reviews from our website. Have a look at the Hyperlite 2017 Murray Wakeboard and find out whether it is going to be the right one or not.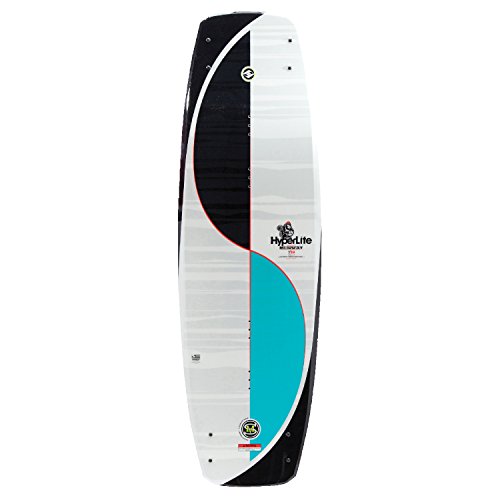 Low Weight Design
The best thing about the 2017 Murray Wakeboard is the fact that it comes with a Bio3 core. This core is low in weight which makes it easier for the riders to have their skills shown and easily learn as well.  This shape is the favorite of Shaun Murray, the designer. The 2017 model is basically the 20th edition of the Murray series.
Other than that, there are two different sizes available so that both intermediate and expert level riders can have fun with this wakeboard. The two sizes are 134 cm and 139 cm. the best thing is the fact that Hyperlite provides a one-year warranty with this wakeboard.
Hybrid Rocker
A better than the regular one is the hybrid rocker which is in this 2017 Hyperlite Murray Wakeboard. This rocker not only helps in providing an explosive pop off the wake but also provides a stable platform for the user. The variable edge design is there which provides easier transitions between the two edges.
Other than that, there is a lamination of layered glass which makes it even stronger and durable for the user. The base is Enduro base which can easily resist any rough usage as well. There are 4 fins which are removable as well. Surely, it is going to be a great one.
Specs and Features
Fins: 4 Removable Four .8″ P-Wing fins
Warranty: One Year warranty against manufacturer defects.
Base: Enduro base
Variable edge design
Bio3 core
Size: 134 cm and 139 cm
Continuous 3-stage hybrid rocker
Pros
Lightweight and durable
Layered with glass
Easy transitions from end to end
Easy to show skills
Amazing warranty provided
Does not create a drag
Cons
Not made for advanced riders
Verdict
The verdict for this Hyperlite 2017 Murray Wakeboard goes out in the positive as it contains so many amazing features. Customers who tried it said that the updated 2017 model was the one which they needed to get their skills polished and have a better riding experience. The best thing is the warranty policy by the company.
Other than that, it is a signature design which has received amazing reviews from the customers which is why we have given this wakeboard a positive verdict. We believe that Hyperlite has created a great wakeboard. Get it from amazon.com right now and enjoy riding with a little extra pop and a durable body surface.