Hyperlite 2017 Scandal Women's Wakeboard
$539.99
The wakeboard for women have been designed with different features and the shapes according to their comfort and most importantly, their requirements. Courtney Angus has designed one of the best-selling wakeboards for women, known as the Hyperlite 2017 Scandal Women's Wakeboard.
It makes sure that you have a wonderful wakeboarding experience; win challenges, enhance your skills, and provide joyous rides. Below mentioned are some of the features this wakeboard has. Let's take a quick look at them.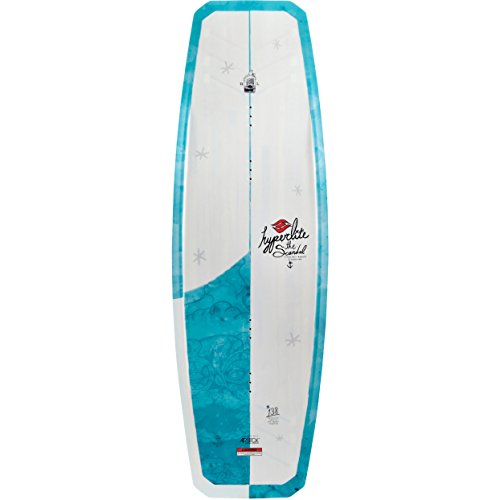 Strong base and construction material
The 2017 Scandal Wakeboard has a crossover construction which combines the E-core and Bio 3 materials. Due to this, you will have a lightweight and a durable core. This board is then laminated with layered glass which maintains its pop throughout the years of usage. Also, it is laminated with Monocoque which brings together the top and the bottom glass to make it durable and strong.
The sintered enduro base of this wakeboard is extremely strong and cannot be destroyed easily. Also, this wakeboard features a satin flex. It creates a soft flex on the board especially for women's needs. The color and the design of this wakeboard are pretty good.
Continuous Rocker
This 2017 women's wakeboard comes in two different sizes: 134 inches and 138 inches. The rider can choose the one with which they feel comfortable and according to their weight. The maximum weight capacity of these wakeboard are 60kg and 70 kg, respectively. It is also light in weight which makes it portable and keep its balance on the water surface easily.
The 2017 Scandal Women's Wakeboard board also features a continuous rocker makes your rides smooth. Due to the rocker, less water resistance is faced. M6 inserts are also included in this board. It is designed for intermediate and advanced levels only. For beginners, it is not a good idea to try this as it isn't user friendly for them.
Specs and Features
Sintered Enduro Base
Monocoque Construction
Layered Glass
Full ABS sidewalls
Continuous rocker
M6 inserts
Crossover Construction
Satin flex and power press
Size: 134 and 138 inches
Weight capacity: 60kg and 70 kg
Color: white, red, and sea green
Pros
Light in weight
Strong and durable construction
Firm grip on the feet
Provides maximum stability
Obstacles do not hit the board and disturb
Smooth rides and more air time
Cost effective
Cons
Board might get damage if weight exceeds
Scratches might be caused
Verdict
Having so many incredible features such as the continuous rocker, strong base and glass construction, and the sidewalls, we must say the Hyperlite 2017 Scandal Women's Wakeboard is must to buy. You will be missing out on a lot if you don't. With this wakeboard performing tricks get easier too.
It is specially designers women and is only suitable for the intermediates and the professional riders. You will love wakeboarding with this board so go online on the amazon.com now and get it as soon as you can. Only 2 are left in stock.