Slingshot 2017 Valley Women's Wakeboard
$319.99
With changing trends, women are taking more interest in every sphere of life, including the water sports, especially in wakeboarding. Keeping up with the trend, all the big sports companies have inclined towards manufacturing of wakeboards that are specifically designed for female consumers.
The Slingshot 2017 Valley Women's Wakeboard is one of the best wakeboards designed by a top-notch company for sportswomen. It comes with a great combination of speed and control. Read the review below to get a complete route through the product and decide for yourself if this is the right wakeboard for you or not.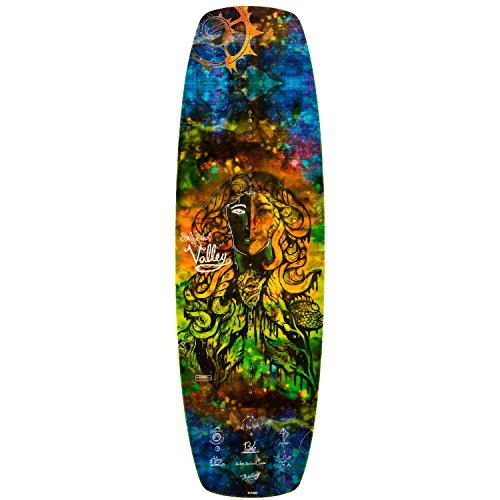 Efficient Design
A good design is a key to a perfect product. The design of the 2017 Valley Wmen's Wakeboard is really important to female riders as they find it a bit harder to learn the proper art of riding. In this wakeboard, Slingshot created a shorter edge to make wake jump a lot easier. Its Monocoque construction makes it durable and long lasting.
The 3-staged rocker and molded-in fins provide easier toe side transition and fluid release off the board. By using industry standard material the board is made lighter, but equally stronger than the other boards. The board creates lesser drag allowing the rider to cruise smoothly through the water.
Master the Basics of Wakeboarding
This women's Slingshot wakeboard has been designed to make learning a fun experience for you. You can choose between small, medium and large as per your requirement. It can support a maximum of 145lbs body weight due to its unique design. The board is constructed as a single integrated unit which gives it an extra strength. It comes with tapering flex tips and new carbon base attachments. It is great to perform simple moves like sprays and carves.
Young kids that are new to wakeboarding can also use the small sized board and can learn with ease. Locking into presses is made easier by the ultra-flexible tips and tails of the board. The valley will take you to another level of progression. You will certainly get spectacular experience learning with this wakeboard.
Specifications and Features
Available in three different sizes.
Can support up to 145lbs of weight.
4 fins that can be easily detached.
Constructed as a single integrated unit.
Designed particularly for female riders.
Modern styled rocker.
Plastic-coated Wood Core.
Pros
Streamlined design to lessen the drag.
Sturdy structure makes it resilient.
Makes learning wakeboard easier.
Easy to control and navigate.
Cons
Not designed for expert riders.
Verdict
In conclusion, the Slingshot 2017 Valley Women's Wakeboard unquestionably the finest, most solid, and well-rounded wakeboard on the market. It is best for women at the beginner stage or intermediate stage of wakeboarding. You can also buy this for your kid who wants to learn wakeboarding. It is also available in various sizes, small for young kids, medium for beginners and large for intermediate level riders.
If you are a woman planning to learn wakeboarding or a beginner level rider then this board is the best choice for you. This 2017 Slingshot wakeboard is a wise investment which will offer you unlimited fun in the water. So stop sitting around contemplating options and buy it today.