Liquid Force 2017 Dream Kid's Wakeboard
$229.98
Pros
Smooth yet controlled ride
Suitable for newbies and youngsters
Durable and resilient material
Interactive design
Concave, beveled shape
Cons
Only for beginners, not suitable for professional riders
May be expensive when comes with accessories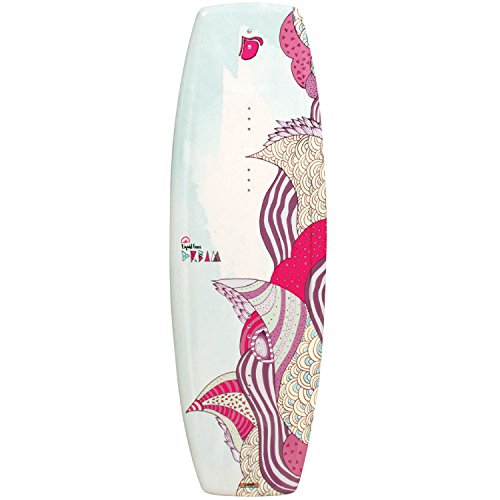 Liquid force's fury and dream series wakeboards are especially designed for young riders. These wakeboards are exclusive for children who are learning the basic of water riding. The Liquid Force 2017 Dream Kid's Wakeboard has a sharper and distinguished outline to add to the confidence of young rider.
The 2017 Dream wakeboard also offers greater control and precision. The overall design enables the young rider to improve the progress on water, weather in a lake, small pond or deeper waves. It is more firm and stable, but does not compromise on fun and leisurely experience.
Aggressive Continuous Rocker
The liquid force kid's wakeboard is a repeatedly tried and tested product for kids. It features an aggressive and continuous rocker, which allows a smooth and easy water ride. It also gives lots of boot off the wake, but still manages to give the softer landings while maintaining the speed and continuous motion.
Trainers and professionals recommend this wakeboard for learners because it enables to have a firm grip and develop their balance on the waves. This, along with molded fins and exclusive rail edge allows the board to work with any rider. It also offers a plenty of feel, smoothness and control to the beginner.
Specially Designed Sizes
Liquid force 2017 kid's wakeboard is available in 3 different sizes. This is because as the size decreases, the anatomical features also decrease along with the change in shape. These small but critical differences allow the performance improvement on different beginner level stages. Moreover, the sizes have been designed to enable the young ripper to improve the performance on high and low waves.
Check Out This Review for the Best Liquid Force Wakeboards of the Year
Specifications and features
Sizes: 115 cm, 120 cm, 125 cm
Mellow, Continuous Rocker on 115
Aggressive, Continuous Rocker on 120
Hybrid Rocker on 125
D-I-S-C Hull through Center Into Slight Vee
Vee Tip Channel
Pro-Glass Combo Layup
Low Volume Rails with Concaved Beveled Edge (Softest Edge on 115, Progressively Sharper from 120 to 125)
Deep Molded-In Quad Fins (Fins Progressively Grow and Get Sharper from 115 to 125)
Improved weight bearing capacity
Riding Ability: Beginner
Wakeboard Style: Boat
Wakeboard Rocker: Continuous
Colors: white and pink
Pros
Smooth yet controlled ride
Suitable for newbies and youngsters
Durable and resilient material
Interactive design
Concave, beveled shape
Increased control
Ultimate speed
Cons
Only for beginners, not suitable for professional riders
May be expensive when comes with accessories
Verdict
When you are selecting a wakeboard for a young rider, you have to look for a number of features. The Liquid Force recognizes all the needs and promises all the necessary features. The Liquid Force 2017 dream kid's wakeboard has been highly rated and reviewed. It is one of the best, perfectly rounded boards for kids, which is stable, yet allows maximum fun and leisurely time.