Ronix 2017 August 120 Wakeboard with Boots
$349.95
Pros
Built in J-Bars keep your heels secure
Stitched reinforcing in the heel area eliminates delamination
The boot flexes with the rider without boot distortion
Comes with August 120 boots
Sets a predictable smooth transitioned edge with little effort
Cons
Not recommended for intermediates and advanced riders
Design attractive only for girls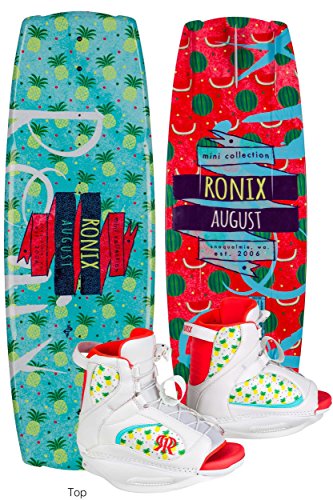 The Ronix 2017 August 120 Wakeboard is not just a sized down common wakeboard for kids. Rather, each aspect of design has been crafted in such a way, that it suits perfectly for a kid's perfect water ride experience.  The August 120 wakeboard has been especially designed to accommodate a rider of 95 lbs. or beyond and this package comes with an amazing pair of boots. From this appropriate weight bearing capacity to overall stability, all of it points to a higher level of performance.
Featured Technical Craftsmanship
The Ronix 2017 August wakeboard has soft outer molded fins, which allow for easier on water turns and splashes. With this, it also features a sharp top and inner fin shape for additional grip whenever desired. The extra-long and tall fins allow the rider to adjust him in the most comfortable position he desires.
Additionally, the 2017 August features a 4-degree bevel which means even cleaner transitioning and lesser edgy catches. A 2.4" easy rocker enables to set the pace of the particular kids shape.
August 120 Boots
Since a wakeboard is complete without a perfect pair of boots, an excellent set has been designed to improve the performance of the young rider when they get on the 2017 August wakeboard. The most comfortable boot construction has been featured to provide stability and protection. Young wake boarders surely enjoy the fully loaded, easy entry boot construction.
Check Out this Review of the Best Ronix Wakeboards this Year
Specifications and Features
Size: 120 cm
Weight capacity: up to 120 lbs.
Rider level: Kids/ beginners
Mellow round radius fading bevel
Wide tip/tail
4 Asymmetric molded outer fins
2 Fiberglass 1.75″ hook fins
Lightweight Stage 1 foam liners
Articulating Cuff
One Year Limited Warranty
Low friction eyelets
Pros
Built on the Ronix Original Baseless Hardware
Built in J-Bars keep your heels secure
Stitched reinforcing in the heel area eliminates delamination
the boot flexes with the rider without boot distortion
Comes with August 120 boots
Not a scaled down version of an Adult boot
sets a predictable smooth transitioned edge with little effort
doesn't require a steep edge angle to get speed
Appropriate weight bearing capacity
Does not compromise on leisurely water riding
Cons
Not recommended for intermediates and advanced riders
Design attractive only for girls
Verdict
The Ronix 2017 August 120 Wakeboard with boots has become a popular choice among the youth riders. It has been rated and reviewed highly, especially for the stability and control it offers which is essential for beginner level riders. The featured boat specific design attracts many consumers. It also includes a sticker pack which allows the parents to track their child's progress.
Users also love it because of the thinner profile which is what reduces the swing weight in air. The rocker line naturally puts the rider in a more central position.