The sport of wakeboarding is a one which requires people to ride a board which is attached to a cable or a rope to a cable park or a boat respectively. It is quite a fun as riders can play some amazing stunts and ride a board on water at great speeds.
Possibly, the only major difference between a surfboard and a wakeboard is that a wakeboard is attached to a cable park or a boat whereas surfboard is ridden by the rider only with no external forces. Liquid Force has various wakeboards in their product line. One of the latest ones is the Hyperlite 2017 Baseline Men's Wakeboard.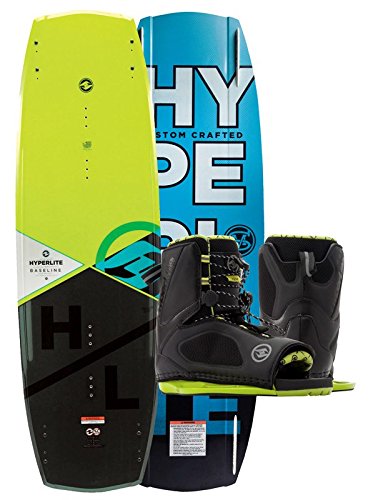 Greg Nelson Design
There are signatures designs in wakeboards and when some famous wakeboarder designs one, it becomes a signature design. The 2017 Baseline Wakeboard is a design by Greg Nelson which is why it is quite attractive and apparent to the users. Other than that, Shaun Murray has also made the design a great one which is why we believe that it is going to be excellent in performance as well.
It is made for the intermediate and expert level riders so if you are a beginner, you need to avoid it as well. For a solid foundation, this one has been crafted with the Monocoque construction.
Less is More
The Hyperlite 2017 Baseline Wakeboard has a much wider profile than other wakeboards and comes with a continuous rocker that helps in delivering a smooth experience with an explosive pop off the wake. The variable edge designs provides the strong edge hold which is necessary for generating maximum speed into the wake.
It is a simplistic design but comes with an array of features which is why it is an example of less for more. The center is clean and water flow can help in creating a smooth ride as well as landings which are predictable. It also has a layered glass over it which makes it durable and long lasting. The size of this board is 136 cm.
Specs and Features
Bio3 core
Monocoque construction
Size: 136 cm
Layered glass
Wide profile design
Continuous rocker
Signature design: Greg Nelson
Pros
Increased surface area gives more pop off the wake
Strong edge hold
Maximum speed possible
Smoother and cleaner ride
Soft landings
Lightweight and durable
Cons
Verdict
The verdict for this Hyperlite 2017 Baseline Men's Wakeboard goes out in the positive for intermediate and expert level riders. 136cm seems to be a good length for a wakeboard. If you are a beginner and you are looking for the right wakeboard, then have a look at some others mentioned at our website.
This men's wakeboard is going to be a great one for making awesome stunts since it is made for pros and it can resist rough usage as well. Being lightweight, it is going to be really helpful. Get it from amazon.com right now and start enjoying. We hope you have a great experience with this board.