Hyperlite 2017 Hashtag Wakeboard
$549.99
Pros
Unique graphics makes it highly desireable
Ultra-smooth ride
Abrupt continuous rocker
Great impact protection with ABS sidewall
• Sintered endure base for strong running surface
Cons
Not suitable for beginners
Expensive
Wakeboards provide an excellent means of water surfing and for other water sports. It should be of a safety promising design and composed of high quality material. Nowadays, the market is full of a number of brands, models and types, but not all of them are reliable.
If you are looking for a reliable product, do read our review on the Hyperlite 2017 Hashtag Wakeboard Review. It comes from a reliable brand of Hyperlite, which is a pro in manufacturing other water sport equipment. Detailed specs and features of this wakeboard are discussed as follows.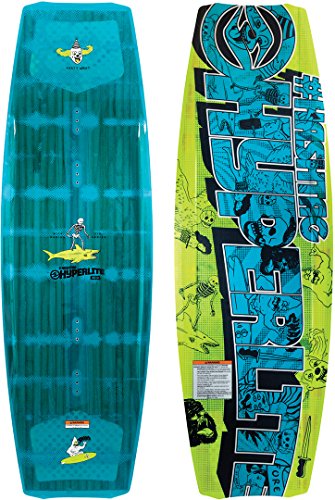 Sintered Enduro Base
The Sintered Enduro Base material is the strongest most durable running surface offered by the Hyperlite. The Sintered Enduro formula undergoes a process that creates a strong bond between particles making the finished product nearly indestructible. This base option is the perfect choice for the cable park season pass holder, therefore the 2017 Hashtag Wakeboard lasts long and needs lesser maintenance.
Building a stronger board through impact protection is the goal behind ABS Sidewall Construction. Our ABS Sidewalls will help you tackle any obstacle in the park without the fear of an edge delams.
Lightest of all, Airstick Core
The Hyperlite 2017 Hashtag Wakeboard features the lightest in the industry Air-Stick core. It features the Paulowina wood cores which are raised without the use of any kinds of steroids or antibiotics. They are then processed to the perfect tolerance levels. The unneeded material and lint is removed to create the lightest possible core.
This than effortlessly floats on water and provides the perfect level of balance to the user. This glass features a configuration of fibers running in three directions for maximum durability while still allowing the board to flex.
Specs and Features
141cm = 130 – 230 lbs.
Color: Aqua, Lime green
Ability Level: Intermediate-Advanced
Riding Style: Park
Rocker Type: Three-Stage Hybrid
Core Material: Polyurethane (PU), Wood
Base Type: Slider/Grind Base
Warranty: 1 Year
Pros
Airstick core, the lightest one in industry
Tri-ax glass for maximum durability
ABS sidewall for impact protection
Sintered endure base for strong running surface
Abrupt Continuous Rocker
Tip to Tail Dual Base Channels
M6 Insert
Feather flex for uniform configuration
Ideal shape for a smooth ride on water
Cons
Not for beginner level users
Comparatively expensive
Verdict
Although the price of the Hyperlite 2017 Hashtag Wakeboard is a bit on higher side, the features are worth the money spent. From design to performance, it has won the customer satisfaction in every aspect. It has a stylish green and blue color scheme ideal for both genders. It is not for beginner level riders, but delivers optimum water floating performance for intermediate and professional level users.
Hyperlite has managed to receive many "Board of the Year" awards and has received positive reviews. The product has also been highly rated by the current riders. The Hyperlite 2017 Hashtag Wakeboard has been used in a number of water sport competitions and has been the winner's board. We highly recommend it to our readers.