Hyperlite 2017 Jam Wakeboard
$549.99
Pros
Unique, attractive graphics
User-friendly for experience riders
Prevents spinning and rotataion
Versatile features
Durable and efficient
Cons
Heavy making it difficult for some riders to handle
Not recommended for newbies
Do you ever feel like a swan as the water waves swift you onto the shore of a beach? You are gracefully carried by the water to and from the shoreline. Well, the Hyperlite 2017 Jam Wakeboard gives a similar yet more thrilling roller-coaster-like experience. Taken 2 years for its construction, this board is one of the finest pieces you'd need to smoothly ride the surface of water.
This model offers exceptional features with excellent quality that not only satisfies a beginner's desires, but professionals can also get benefited from it. Get to know more about this product below, and find out which compelling qualities of this board attract water-sports lovers.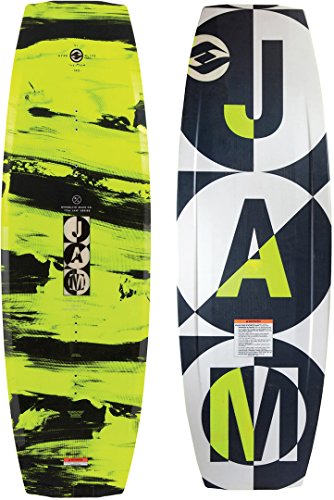 Soft, Solid and Simple
This 2017 Hyperlite Jam Wakeboard is uniquely designed by one of the first wake-boarders – Greg Nelson alongside Jimmy LaRiche. With its durable construction, surfers are more willing to purchase this board due to its long-lasting life. It entails a soft flex pattern with a simple base design that is extremely suitable for playful riding on the water surface and for solid contact on rails or soft landings.
Moreover, this equipment makes oceanic journey easier for swimmers and riders, during high and low tides. In addition, the smooth surface of the board allows beginners and proficient wake-boarders to cherish their water-skiing enthusiastically.
Durable, Doable and Double
The 2017 Jam also has a finely constructed sidewall to ensure more solid bond to the core and glass materials. Additionally, this wakeboard features curved rail channels which mimic the profile of board assisting with edge control. This feature prevents riders from tipping off during the tricks on water surface.
Furthermore, the Crossover Flex Core combines a double layer, consisting of wood and foam, for a perfect flax which ultimately makes the board more stiff and swift to flow on the water. This model is well-suited for an intermediate-level to an expert-level user. Don't you feel excited to try this wakeboard already?
Specs and Features
Dimensions of product: 59 x 21.7 x 3.8 inches
Weight: 14.9 pounds
Department: Men
Manufacturer: Hyperlite
Ability: intermediate to expert level
Pros
Wide base
Durable and long-lasting
Attractive and appealing design
Prevents spinning and rotation
User-friendly and convenient
Versatile features
Sturdy and efficient
Cons
A bit difficult to handle because of bulky weight
It is not suitable for beginners
Verdict
The Hyperlite 2017 Jam Wakeboard is the signature product by Nelson and Jimmy. It gives an overall positive outlook with its outstanding and matchless quality. It is highly appreciated widely by most users, including those who are not a fan of water sports. This model is a great combination of innovative, convenience and quality.
On a negative note, it is often complained that the weight of the board makes it slightly less user-friendly and portable, being around 14.9 pounds. Therefore, it is not suitable for beginners, however, expert and intermediate-level surfers can use it effortlessly. So, what are you waiting for? Buy this phenomenal 2017 wakeboard today and share an enjoyable experience with your peers.