Hyperlite 2017 Kruz Nova Wakeboard
$749.99
Pros
Layered glass structure making it very durable
Carbon Torsion Zone makes it long lasting
Wood core making it denser in water
Rushes through water with angled fins
Wider surface area
Cons
Expensive
Visuals could be updated
Wakeboarding is a popular water sport whereby one plays with the waves of water and create their ways through them. The best thing about wake surfing is that you can learn in no time and once you are on it, you will never ever like to leave it. When we talk about wake surfing, the things one needs are a professional wakeboard and some advanced skills.
While these skills can be easily learned from a coach or so, we are here to guide you on wake-boards and today we will talk about the Hyperlite 2017 Kruz Nova Wakeboard. Let's jump on to its features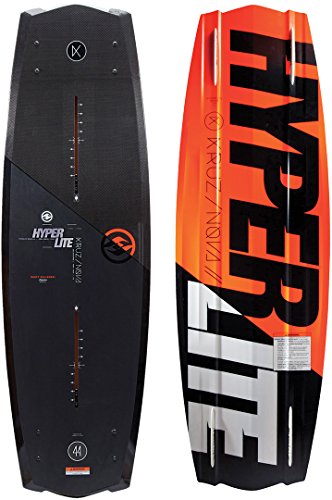 Advanced Construction
Hyperlite products are engineered by highly qualified and experienced personnel out there. The company is always busy in making their wake-boards more comfortable, easy to use and durable. In this case, they came up with a firing idea, to combine all the previous technologies and materials into one.
Thus, the 2017 Kruz Nova Wakeboard has a six-layered structure, which does not make the wake-board heavy at all. The new Kruz Nova is basically a combination of the lightest of the materials but the most durable ones. The wakeboard is purely an essence of Hyperlite's 25-year experience in the industry.
Strata Track Mounting System
Mounting a wake-board is itself a skill to be learned before you start on wakeboarding. Professional riders have the opinion that even tilting your boots have some effect or the other on your wake surfing experience. Therefore, to help the beginners to easily learn mounting skills, Hyperlite integrated a very beneficial system in the 2017 Hyperlite Kruz Nova.
This system is known as the Strata Track Mounting System. It is more of a scale placed on the axis of a wakeboard and it allows you to choose any point over it. Next, one can easily have micro stance adjustment or even custom set ups. This helps you to secure the position of your boot on the board and there is no chance of falling off.
Specs and Features
Axis: 13 inches
Sizes: 134cm, 139cm, 144cm
Color: Black
Weight: 12 pounds
Core material: Wood
Pros
More width and surface area, less length generates speed
Angled fins helps to rush through water
Nova core construction material makes it durable
Strata Track Mounting System for beginners
Carbon Torsion Zone makes it long lasting
Wood core lets you surf more easily
Layered glass structure
Cons
Verdict
To conclude the review for the Hyperlite 2017 Kruz Nova Wakeboard, it would be enough to say that this wake-board was loved by Rusty Malinoski, who is a professional wake boarder. This is a signature product from him. However, this should not make it as much expensive as it is. Although it has many other beneficial features and the long list of pros seems to be overruling lover this one disadvantage.
This board is equally beneficial for beginners and professionals but it is recommended for professionals only. The layered glass structure along with a 100% woody core brings the 2017 Kruz Nova to life and exciting to use. It is long lasting and durable as well. So, if you are ready to spend a handsome amount of money on wakeboards then this one might be the best for you.