Mostly, people love to swim in a regular swimming pool. However, taking chance near the waves is a more entertaining way to eradicate perspiration, enjoy your day, lose weight more rapidly and build an environment for sportsmanship through healthy competition with friends. Don't you agree? Flying on the surface of the water while wakeboarding requires a sturdy equipment for a smooth and safe ride.
Are you looking for a similar board? Do you want to purchase a durable wakeboard in a reasonable price? If yes, then here it is! The Hyperlite 2017 Marek Bio Wakeboard has all those features you must be searching for. This phenomenal product offers top-notch performance and excellent specs so that you can enjoy a thrilling adventure while gliding across the water.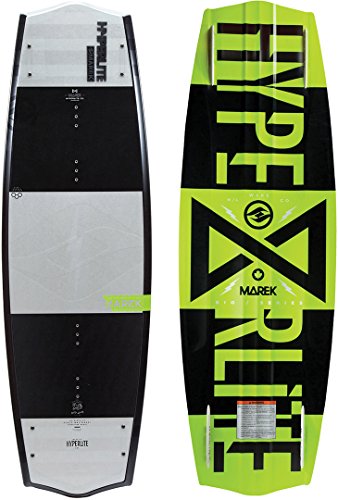 Fast, Smooth and Durable
The 2017 Marek Bio Wakeboard is lighter in weight as compare to the previous versions offered by the same brand. It has a considerably mellow base that helps you to ride smoothly and speedily on the surface of water. Moreover, the negligible weight of this board also allows the users to perform desirable tricks, while wakeboarding, without any inconvenience.
This Marek Bio Wakeboard comes equipped with a brilliantly constructed rocker line which adds a kick to the speed of board. It is a popular feature of higher-end boards which riders undoubtedly desire. From quality to efficiency and durability to price, this product promises to offer you the best.
Comfortable, Convenient and User-Friendly
Comfortable to stand on, the 2017 Marek Bio Wakeboard is made up of fiberglass and foam with a slim construction base, which is the most exclusive part of the product. The foam is wrapped around with layered glass for further ease. This feature makes it safe to use and swiftly flow in high tides.
It is available in three different sizes, from 135cm to 140cm and 145cm, enabling the users to pick a suitable one depending upon their need, height and size. Moreover, it can support above 140 pounds of weight, and with the increase in sizes, the permitted weight increases accordingly. In addition to this, the tip of board is constructed to be exaggerated while the tail of the product is rocking to make sure that the rider doesn't have to compromise on speed, during the thrilling water sport.
Specs and Features
Riding style: wake
Fins: 4
Ability: intermediate to advanced level
Base type: standard base
Pros
Available with warranty
Lightweight and compact design
Available in 3 sizes
Versatile features
Durable
Cons
Verdict
The Hyperlite 2017 Marek Bio Wakeboard comes with 1-year warranty, which guarantees the users about its durability and long life. It is an ideal combination of quality, convenience and versatility. The remarkable features of this wakeboard are designed for everyone, be it a beginner or a pro. I
t has a thin profile and lightweight to prevent any kind of mishap, while riding, however, many users have raised concerns regarding its price, which is quite high as compare to similar equipment in its class. In a nutshell, the overall construction of the board is bound to make water-sports more amusing and riders more willing to wakeboard often.