Hyperlite 2017 Mystique Women's
$289.95
Women are also seen with men in many fields of life so why not in the field of sports? Wakeboarding has been a popular sport among women more recently. Hyperlite came up with special wake-boards for women, keeping in mind their body size and shape.
The Hyperlite 2017 Mystique Women's Wakeboard is an awesome one with many new upgrades and cool features. It was also introduced previously and was the best-selling then. After some time it was discontinued but now it is back, with many new things in it. Let's talk about them.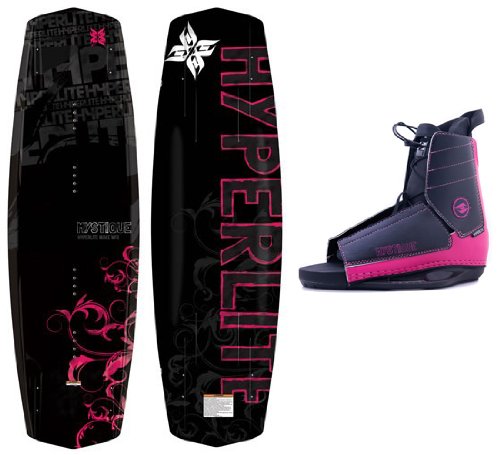 The M6 Hardware
There is a slight difference between the wakeboards of men and women. Men wake-boards are often a little bit heavier and somewhat stronger than those of women. The M6 hardware integrated into the Mystique wake-board makes it the perfect one for women. This is because it features a thinner and lighter wake-board designed as such to perfectly meet the needs of women.
The new Mystique has four fins, all of which are easily removable so you can enjoy even faster wakeboarding. Mystique also features a subtle 3 stage rocker. One board with so many things and yet it is lighter! Do check this one out.
Low Pro Plate System
Tired cheap quality wakeboards which have base plates which break every now and then. Come to Hyperlite. Here at Hyperlite, the team is always in search of new methods to make your wakeboarding smoother and comfortable. The engineers at Hyperlite came up with a new system known as the Low Pro Plate System.
The 2017 Mystique Wakeboard has a 6 inch smaller but stronger, lighter but durable base plate. This base plate will last for years and the best thing about this system is that it results in a sharp weight reduction of the board itself to give you a smoother, comfortable and a more responsive wakeboarding experience.
Specs and Features
Size: 135 cm
Color: Pink/Black
Core Women's Range: 6-11
Weight limit: 100-160 lbs.
Pros
Easy assembly operation
Boards rear flex zone for less abrasion on legs
Molded EVS for cushioning on heel and toes
OSFM (one size fits most) model
Very lightweight allows smoother ride
Low Pro Plate System
M6 hardware makes the board much durable
Cons
Verdict
To end the discussion for the Hyperlite 2017 Mystique Women's Wakeboard Review, we would like to tell you that this board was highly loved by the users and customers. Approximately 9 out of 10 users rated it five stars, others did not find any hardware problem, and their only complaint was that the board was expensive. However, if we look at the features and pros of the boards we can say that it has a very reasonable price.
The Mystique is a complete package, with board, fins, bindings, and hardware. The assembly operation is very easy and one can perform it themselves. The board is made for beginners and riding on it is fun. It can support individuals up to 160 lbs. With a one-year manufacturer warranty, you can have the best wake-board delivered at your doorstep.