Hyperlite 2017 Vapor Wakeboard with Destroyer Wakeboard Bindings
$279.95
There are different types of wakeboards but if you are in search of the right one, you better do some research. If you are unable to find any reliable source for such research, look at our website and have an idea of what wakeboard should you be buying according to your physical abilities and skill levels?
If you are in search of a wakeboard that is going to be a great one for your kids, then have a look at the Hyperlite 2017 Vapor Wakeboard with Destroyer Wakeboard Bindings and find out whether it is a great piece to use or not.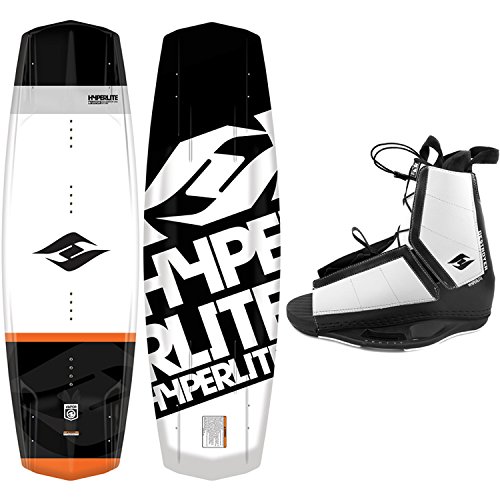 Amazing Warranty
The best thing about the Hyperlite 2017 Vapor Wakeboard is the fact that it comes with an amazing warranty time of 2 years which is basically a sign of its amazing quality. Another great thing about this wakeboard is the fact that it comes with Destroyer bindings as well which are actually made to help you pick up your game.
This two in one benefit will not only give you a good value for your money but it will also help you in having a peace of mind while making your purchase. The core range of these bindings is shoe size 8 – 14 which means that most of the users would be easily able to ride this wakeboard without any issues on the size of bindings.
Signature Design
The design of the 2017 Vapor Wakeboard is one of the best ones that has been designed by Shaun Murray. It is made specifically for Cable Park riding experience but you can use it occasionally for boat riding as well. It comes with an amazing 3 stage rocker which helps the user in having an extra pop off the wake which will help in improving confidence while riding.
It comes with the updated low pro plate system which helps in maximum weight reduction and ultimately helping the user in smoother edge to edge transitions. There are four removable fins as well which improve the control of user over the wakeboard.
Specs and Features
Rocker: 3-stage rocker
4 removable fins
Design by Shaun Murray
Binding size: 8 – 14 shoe size can fit
Destroyer bindings provided
Sizes available: 139cm and 143cm
Pros
Extra pop off the wake
Smoother edge to edge transitions
Improved rider control
Bindings are good
Good value for money
Helps in providing proper learning and riding style
Cons
Made for a good cable park experience not a boat experience
Verdict
The verdict for the Hyperlite 2017 Vapor Wakeboard with Destroyer Wakeboard Bindings goes out in the positive for beginners as well as intermediates. As we have mentioned the numerous benefits which you will be getting from this wakeboard, there stands no reason as to why you should not buy it.
Only if you are an advanced rider, then have a look at something else otherwise it is going to be completely fine for you. We hope you get to have a great experience with this 2017 wakeboard package.